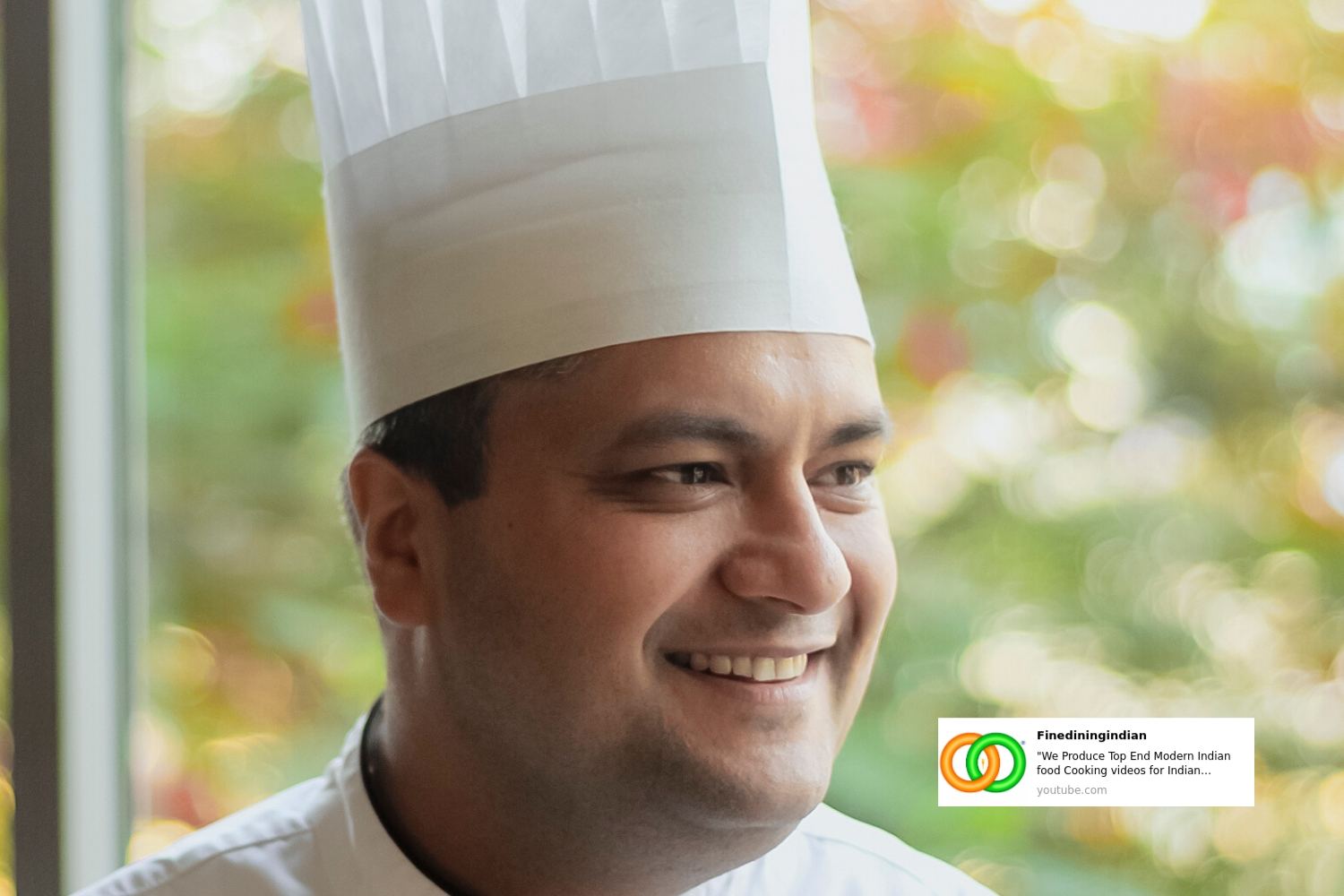 Chef Anurudh Khanna
Executive Chef Anurudh Khanna
An award winning multi-faceted personality in the Hotel industry . Chef Anurudh has come a long way in his culinary journey, know more about him in the article below.

[thb_image full_width="true" alignment="center" image="9331″]
[thb_gap height="30″]
[thb_gap height="30″]
Chef Anurudh Khanna: Multi-Property Executive Chef – Marriott International
A Brief about your culinary background.
I have been a Chef for the past 21 years and have worked in leading international chains and with renowned chefs. I am a classical trained Italian chef and during my career have handled various key profiles in hotel. From being a Chef Incharge of a fine Italian restaurant . Then to the Banquet Chef of the prestigious Banquets of The Taj Mahal hotel in New Delhi and then a chef in charge for the Busiest All day dining restaurant Machan .
I had groomed the hard way. My exposure of contemporary cuisine happened when I opened the Restaurant Varq a new age fine dining Indian restaurant . With upmarket plate presentations and learnings. After that, I was the Executive Sous Chef of the Taj Mahal Hotel New Delhi for 2 years and post that I have been an Executive Chef for the past 11 years.
As an Executive Chef I have worked in The Park Hotels, Westin Pune (Starwood hotels). Shangri-La Hotel in Bangalore and now this Multiproperty Executive Chef role at The Westin Gurgaon and Westin Sohna.
Awards and recognition received:
I was honoured by the recognition of Regional Culinary Leader of the Year in South Asia. Starwood hotels in 2014 when I was with Westin Pune as Executive Chef.
I was awarded as Innovative Chef of the Year by BBC Good food in South India (during my stint as Executive Chef of Shangri-La, Bangalore)
Awarded the Executive Chef of the Year 2018 in Restaurant India Awards in Bangalore. (during Shangri-La Bangalore time)
How you conceive a dish or improvise traditional dish into international style?
I usually play with colours and textures and keeping in mind the recipe be the hero for the authentic dish, I do not change the recipe but try and enhance the dish . By using techniques, garnishes which are upscale and in trend at times the way the dish is assembled with the accompaniments . I really can be creative and change the presentation of the dish. I love to experiment with fresh ingredients and colours to give a dish a modern look.
How you keep up to date and what is your approach in designing a menu?
I keep my knowledge up to date with what's going in the global culinary scene . Also brings a lot of seasonality and freshness in the menu by using locally sourced high-quality ingredients .  And by enhancing their beauty with my creativity before presenting the menu to the guests.
What guidance would you like to provide for Indian chefs to achieve a successful career like yours?
The guidance I would love to give all Indian chefs is that we have one of the most richest and diverse cuisine in the world . lets be confident of that and do not compromise on any traditional recipes even if we are made to do so . use your creative flair to add soul to those recipes and make them modern by adding soft touches to recipes . Use techniques to create stories and experience behind each and every menu item.
How you train your team to get consistency in food standards?
Consistency is the key for any professional chef and it's the hardest part of being on the kitchen counter to dispense all the dishes . Which is similar to each other in texture, taste, presentation and portion size. I follow a very strict and disciplined way of taste panels where practically the team cooks under the direction and supervision of chef . Every day a dish and get that tasted by the rest of the team and the chef, this ensures a fair amount of training going into the team to deliver quality consistently.
One of your worst food critic or comment you received?
On a bad day when I was a Chef in Italian kitchen after a hard day in the kitchen I had a food critic commenting on the pasta dish. That the dish seems to be made by a culinary trainee I think that's a bad memory
Any daily rituals you do and why it's important for your success?
The daily ritual that I follow very diligently is to pat the back of each and every team member of my culinary team . Say them a hello or a Namaste every day and check on their happiness. In my team its important because I have realised food comes from heart .It's very important to keep everyone happy from within and motivated from within.
How you judge a young chef and how you test him for long term association with you?
I always judge a young chef from his desire and keenness to learn and how clued on he is on his basics and how much is he disciplined.
Who you look up to in professional life. who you still approach for guidance?
I was mentored by my Executive Chef, Chef Amit Chowdhury under whose mentorship I groomed from Chef De Partie to an Executive Sous chef and still follow him a lot. This was at The Taj Mahal Hotel in New Delhi between 2002-2010.
Pick one dish that represents you and why it's your favourite, what's the thought behind its creation?
So during my younger years, I always used to hate Karela (bitter gourd ) and it's a very famous vegetable in our Indian Cuisine. During one of these very important dinners I had done a very innovative take on that by serving a Kurkure Karele ki chaat with masala Chaas ice cream . (so the thought was to play with temperature and texture in this dish with warm crisp bitter gourd slices tossed in tangy spices to serve with smooth and chilled chaas ice cream which was refreshing and nice )
What will be the Indian cuisine future according to you, what should be Indian chefs doing to make Indian cuisine best in The world?
I think Indian cuisine is the most diverse and peppy cuisine with loads of legacy to offer to the world and the future is very bright and it has all the pre requisites to be the world's best cuisine if followed with discipline and honesty.
What you do other than cooking that keeps you happy, motivated and inspired?
Apart from cooking, I am an amateur photographer and I love to click. I follow wildlife and nature and love to spend time bag packing on wildlife travels with my camera.
Name top five Indian restaurants around the world according to you?
Thats a tough one as most of  these chefs are my Friends
Indian Accent
Dum Pukht
Varq
Junoon
Tamarind
Name Top Indian chefs of all Time?
Chef M.S Gill ,Chef Imtiaz Qureshi, Chef Arvind Saraswat , Chef Amit Chowdhury
A Book or an Incident that influenced you and how it changed your approach to life?
I do not follow books, from some of my mentors I learnt that it's important for a Chef to be a peoples person and that opened my approach as a chef.
How you choose an Indian restaurant to eat out? What you look for in the menu?
Usually, when I eat out I either look for a great local authentic restaurant with a limited menu serving a family-style meal and I look for authenticity in cuisine be it North Indian, South Indian or any other cuisine but I am more inclined to eat out in authentic small nut local restaurants.
Any work or project you do for community Development?
Not really but I am inclined to develop the farmer community a lot.
Do you believe the TV chefs makes a good real Kitchen chef? Why?
Quite controversial but I think NO. As the environment and pressure in the professional kitchen are very different from a kitchen show in TV where there is no stress from your associates, guests, food cost and a lot other elements and there are no chances of takes and retakes, it's a sharp core cooking and heat in the kitchen, unlike cooking shows.
Allergy and allergen request, policies compromise chef's creativity. how you handle this
As a professional chef, you have to keep on updating yourself and keep on being creative and coming out for new dishes and recipes that are loved by all keeping these policies and guidelines in mind some of them are quite a learning and make you a better chef and some you have to live with it.
Subscribe to our Youtube Channel
[thb_gap height="30″]
[thb_gap height="30″][thb_border][thb_image alignment="center" image="8497″][/thb_border]