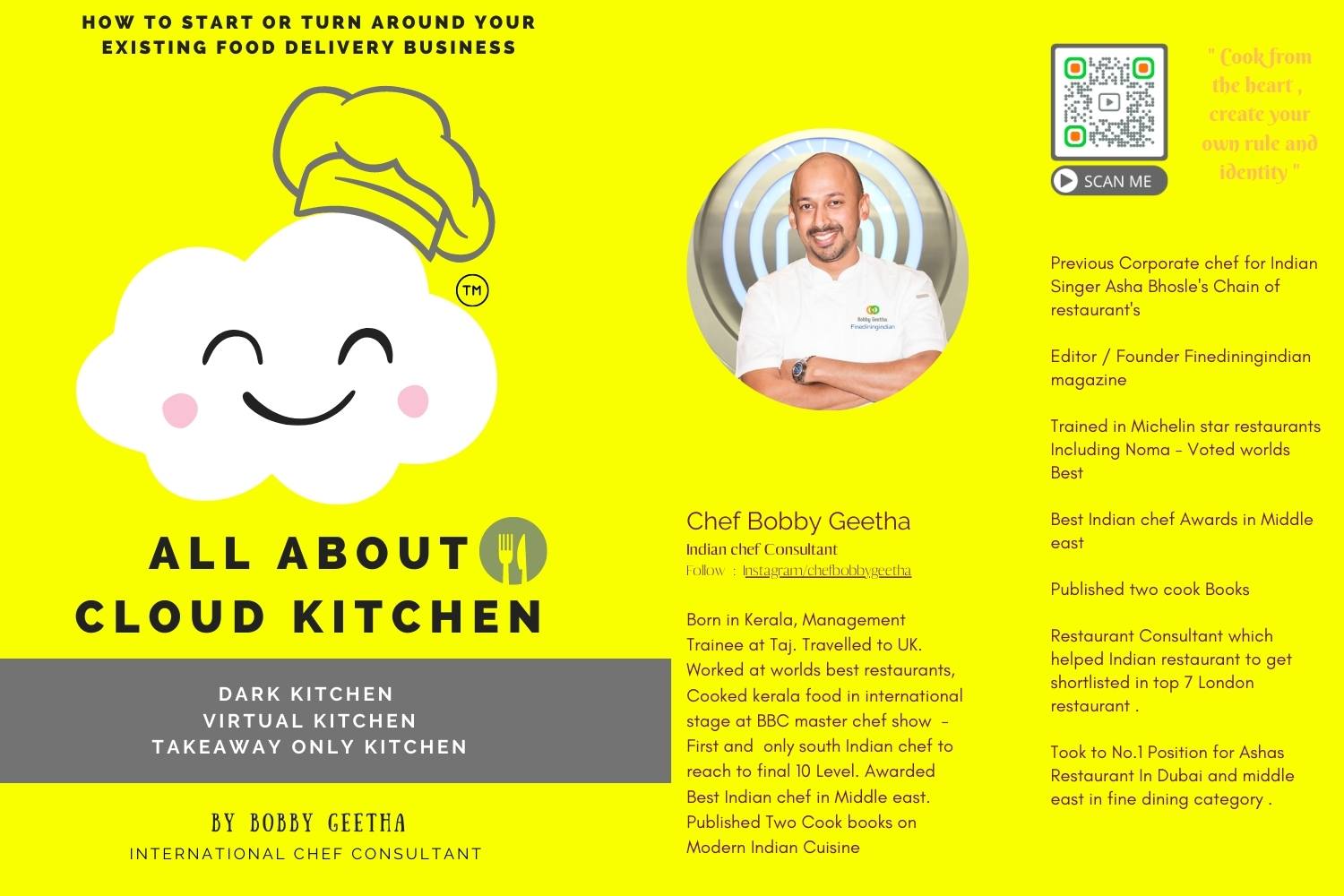 Start Cloud Kitchen
[thb_image full_width="true" image="31930″ img_link="url:https%3A%2F%2Fwww.amazon.com%2FIndian-Cuisine-Evolution-finediningindian-retnakumar%2Fdp%2F1090806566%2Fref%3Dpd_rhf_dp_p_img_2%3F_encoding%3DUTF8%26psc%3D1%26refRID%3D5EQ9G963Q8RAAM4SVE9X|||"][thb_gap height="30″]
All About Cloud Kitchen
How to start or turn around your existing food delivery business.
DARK KITCHEN  ★ VIRTUAL KITCHEN ★ TAKEAWAY ONLY KITCHEN .
The basic concept behind cloud kitchen economics is very simple. Cloud kitchens do not have a physical space for diners to sit and eat. They rely completely on online orders for business and thereby are heavily dependent on food aggregators .
[thb_gap height="30″]
******** Kindle & Paper Back edition ********
[thb_gap height="30″]
Click To see chef bobby geetha's books 
What Is A Cloud Kitchen ?
Times are changing and we are relying on technology. We are storing our photos and are streaming movies in the cloud. Even the businesses are running in the cloud
These concepts are much economical than traditional restaurants because of low operational cost. Many existing brick-and-mortar restaurant kitchens have seen much of their businesses go online. This has been possible by the rise of delivery apps. Thus, cloud kitchens are slowly upping the restaurant game.
Cloud kitchens are high profit, low risk food service businesses which basically act as food production hubs.
Chef Bobby Geetha | Indian chef Consultant
Follow  :  Instagram/chefbobbygeetha .
Previous Corporate chef for Indian Singer Asha Bhosle's Chain of restaurant's
Editor / Founder Finediningindian magazine
Trained in Michelin star restaurants Including Noma – Voted worlds Best
Best Indian chef Awards in Middle east
Published two cook Books
Restaurant Consultant which helped Indian restaurant to get shortlisted in top 7 London restaurant .
Took to No.1 Position for Ashas Restaurant In Dubai and middle east in fine dining category .
[thb_gap height="30″]