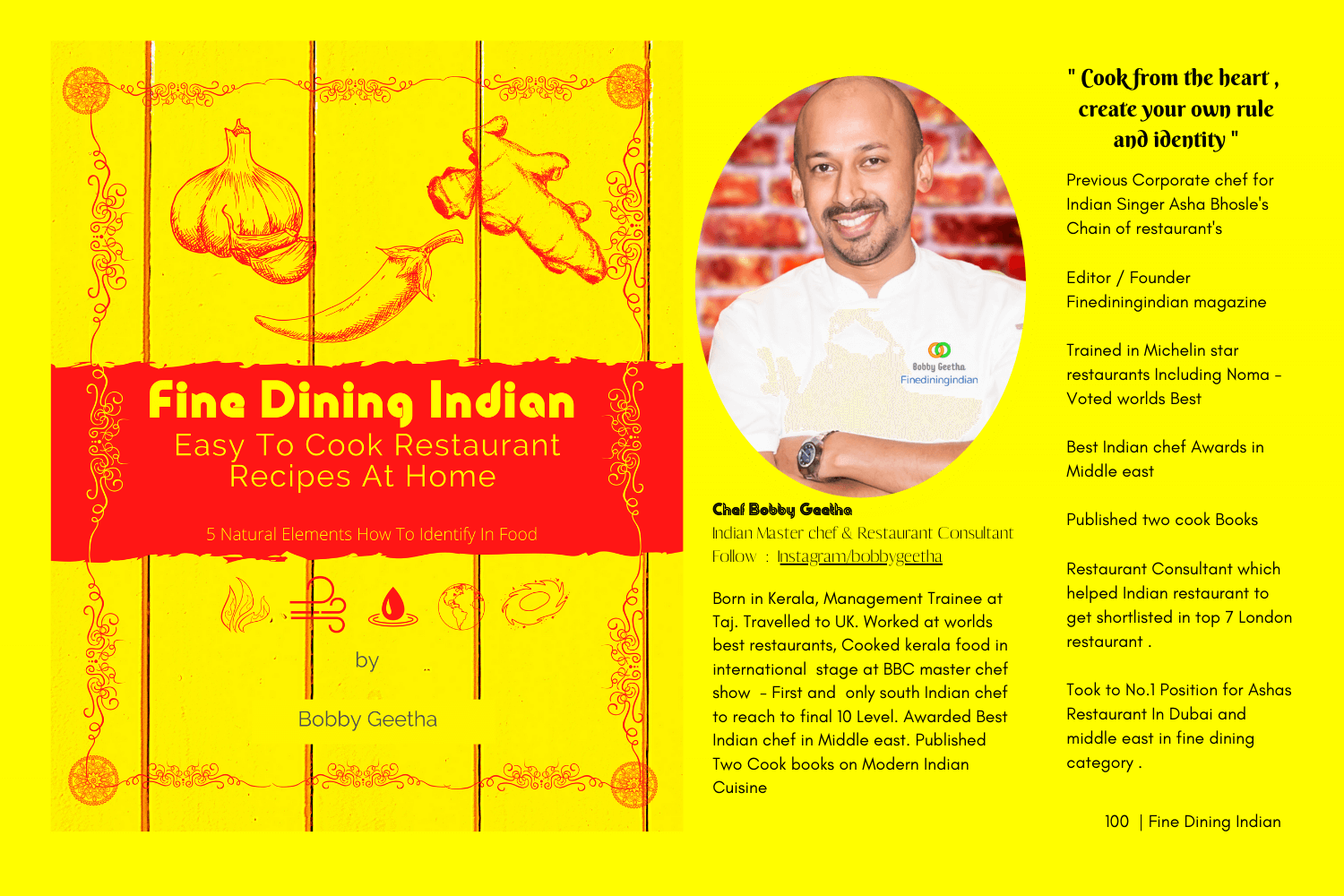 Fine Dining Indian
[thb_image image="10063″ img_link="url:https%3A%2F%2Fwww.amazon.co.uk%2Fgp%2Fproduct%2FB08B7VSHXQ%2Fref%3Das_li_tl%3Fie%3DUTF8%26tag%3Dfinediningind-21%26camp%3D1634%26creative%3D6738%26linkCode%3Das2%26creativeASIN%3DB08B7VSHXQ%26linkId%3D1a5b09263594a9310fe2fcf00b589801|||" img_size="300×500″][thb_gap height="30″]
Fine Dining Indian cookbook
[thb_gap height="30″]
******** Kindle & Paper Back edition ********
[thb_gap height="30″]
Restaurant Style Simple Indian Recipes from Master chef Uk Semifinalist Chef Bobby Geetha 
" Fine Dining Indian : Easy To Cook Restaurant Recipes At Home "  ★★★
The concept of this Fine Dining Indian cook book is to bring fine cooking accessible to all house hold and to Indian restaurants . These recipes are developed through my Indian food journeys inspired from my London , copenhagen Michelin star Two ★★  resturant trainings . Bring simple but amazing cooking techniques i learned and enhance Indian cuisine to a New level .
Fine Dining Indian is a vision and mission in achieving positive eating and cooking habit in Indian kitchens . " Fine dining is never about eating in a posh restuarant " . It is about the choosing the fine ingredients , fine cooking techniques to produce finest recipe possible .
" If we can achieve this in resturants and charge you high price . why don't you cook this at home literally to 1/10th of the money you pay at resturants . "
The Book empahsis on the concept of Indian food and its relation to the five elements. Pancha Bhoota or Pancha Maha-Bhoota, five great elements, also five physical elements, is a group of five basic elements, which, according to Hinduism, is the basis of all cosmic creation.
Sweet-Earth & Water
Sour-Earth & Fire
Salt -Water & Fire
Pungent -Fire & Air
Bitter-Air & Ether
Astringent -Air & Earth
Some of the Unique recipes given here are
★ Achari Octopus samphire pakora , ★ Wildboar sausage Vadapav , ★ Tapioca poppadom , ★ Lamb sweet bread shami kebab , ★ Duck egg naan roll and many more , ★ Brioche shahi tukra , ★ Beetroot halwa and white chococolate .
" The Book brings out the importance of we are what we eat and food can strongly affect our emotions "  
Chef Bobby Geetha is an Expert as Indian food consultant with More than 15 years hands on experience .
◆◆ ♥ Follow Him on Instagram as : Bobbygeetha ♥ ◆◆
Word From Chef Schilo van Coevorden | Taiko Restaurant Amsterdam

Regional Director Food and Beverage at The Set Hotels
 " My love affair for Indian cuisine started in the mid 90's when I arrived as a young chef in Dubai. Every day I ate Indian home cooking in the staff canteen made by an amazing chef called Oscar.As his kitchen was next to my kitchen he told me everything about the essential ingredients, combinations and techniques India has to offer.
Straight away I fell in love and have been an ambassador of Indian foods even since. I'm even adopting Indian recipes into my own kitchen.
Years later when I got introduced to Bobby Geetha , I saw we were on the same wavelength adapting classical to traditional recipes using modern approaches and techniques. and again I fell in love because I think now is the time and place that Indian fine dining deserves the same recognition as other countries. " 
[thb_gap height="30″]