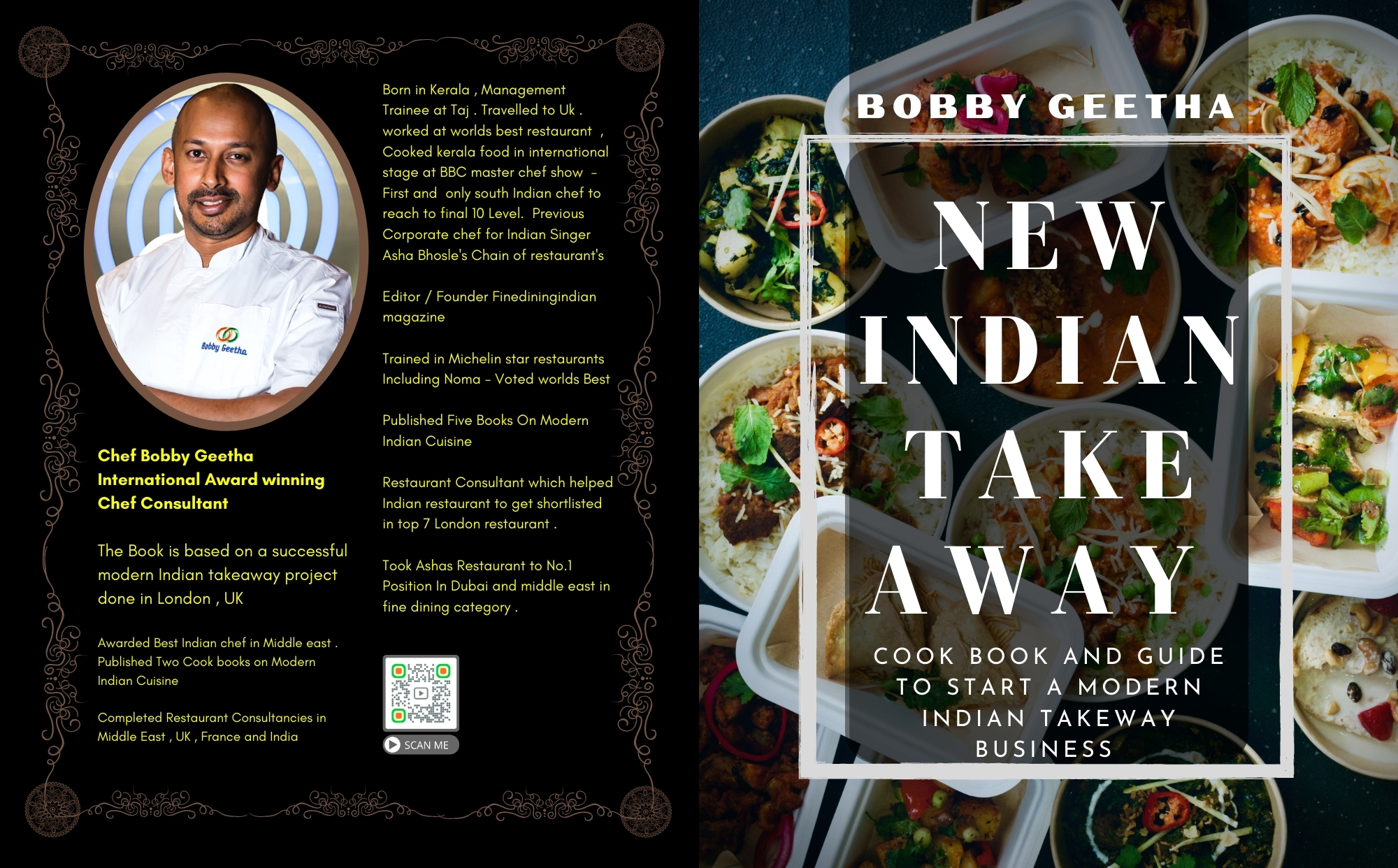 New Indian Takeaway
[thb_image image="32095″ img_link="url:https%3A%2F%2Fwww.amazon.com%2FIndian-Cuisine-Evolution-finediningindian-retnakumar%2Fdp%2F1090806566%2Fref%3Dpd_rhf_dp_p_img_2%3F_encoding%3DUTF8%26psc%3D1%26refRID%3D5EQ9G963Q8RAAM4SVE9X|||" img_size="300×500″][thb_gap height="30″]
[thb_gap height="30″]
******** Kindle & Paper Back edition ********
[thb_gap height="30″]
★★  Cook book and guide to start a modern Indian takeaway business  ★★
New Indian take away , Take away culture of curry houses started in United kingdom. when we need to ensure the basic quality of Indian cuisine has to be upgraded it must start from the root .
The old school Indian takeaways are losing its market grip mainly due to unhealthy curry which is steeped in oils with boring same menu which started as a trend 50 years back .
You either upgrade yourself or face lose of business
The Food service delivery Market in Uk stands around 8.5 Billion GBP in 2019. UK households spend an average of around five British pounds per person per week on Takeaways .
My Hands on experience and research to run successful Modern Indian takeaway kitchen . Tried and tested perfect recipe that helped many of my restaurant clients to run successful restaurant and takeaway business in Uk , Middle East and India .
◆ The concept ◆
When i got the opportunity to revamp and design an existing old school Indian take away in to a " New Indian Take away " saw it as an greater opportunity to change the tired curry culture .
What I learned is an amazing opportunity how we can change the existing curry culture . The base gravies used tasted same , more to a sweeter side . My objective was to make it simple , authentic and using local ingredients around uk .
When we started of the old clients were suspicious and we saw a dip in sales . The owner was concerned and almost near to go back tested old styles .
But the patience paid of with the help pf worlds biggest marketing Tool Yes " The word of Mouth . Now we raised More than 50% of Monthly sales compared to last year. which is a tremendous jump . The work culture has been improved as recipe given were accurate with perfect techniques to follow .
★ About Chef Bobby Geetha ★
Bobby Geetha is a chef With proven successful track record in business turn arounds, concept development and new openings.
Top rated chef at BBC master chef season 8 – First and only South Indian chef to reach to final 10 level.worked in capacity of Corporate chef , Group Head chef in London and Dubai.
Taj Hotels | Sofitel | Hilton | Noma | Ashas Restaurants | Compass Group .
Cornell University | IHM India
www.chefbobbygeetha.com
◆ TV: Featured in UAE's top chef show 2018
◆ Trained in Michelin star restaurants Including Noma 2017
◆ Best Indian Chef Awards in Middle East 2018-19
[thb_gap height="30″]