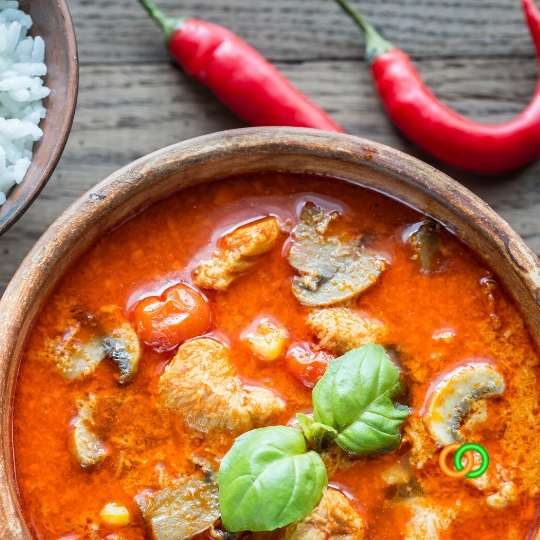 Pork Thai Red Curry
Pork red thai curry
Follow this easy recipe for Pork red thai curry
A good Thai red curry is spicy, creamy, not too sweet and has probably my favourite Thai herb in it, which is Thai basil. In my recipe I use Thai aubergines, but you can use baby aubergines if you can't find the Thai ones. Striped aubergines are readily available in the UK now, and they look great, so if you can find them, they're definitely worth a go.
There's no real set rule to the veg to use in a red curry so don't be afraid to experiment and use whatever vegetables work for you. Just make sure something in the dish is red! I'm using cherry tomatoes for their sweetness and topping the finished curry with some sliced red chilli. You can use red pepper if you prefer.
Thai cuisine and the culinary traditions and cuisines of Thailand's neighbors have mutually influenced one another over the course of many centuries.
According to the Thai monk Venerable Buddhadasa Bhikku's writing, 'India's Benevolence to Thailand', Thai cuisine was influenced by Indian cuisine. He wrote that Thai people learned how to use spices in their food in various ways from Indians. Thais also obtained the methods of making herbal medicines from the Indians. Some plants like Sarabhi of Guttiferae family, Kanika or harsinghar, phikun or Mimusops elengi and bunnak or the rose chestnut etc. were brought from India