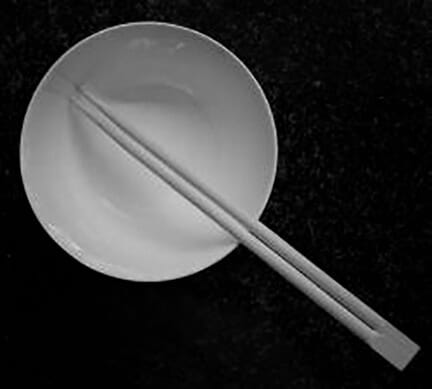 Fine dining In India Luxury Hotels During Indian Travel
[yasr_overall_rating]
Fine Dining Indian Experience By Fine Dining Explore
[thb_gap height="70px"]
About the Author
Fine Dining Explorer is the first (in 2012) person to complete the World's 50 Best Restaurants and his experiences have been featured in The Guardian, the London Times, Forbes India, The New Yorker and Waraku. In 2017, a selection of his top reviews from his website were translated into Mandarin by a Beijing-based publisher, and produced as 奢华餐影全球行(Fine Dining Explorer), which is among the first books in China to describe personal experiences of fine dining around the globe.
Fine Dining in India from an Explorer
Over the past decade or so, I've eaten in a lot of places, and I mean a lot. In fact, I've experienced the offerings of literally hundreds of the leading restaurants across six continents. Given that I've personally tasted the cuisine of so many of the world's regions, you probably won't be surprised to learn that one of the questions I'm most often asked is 'What's your favourite type of food?" And it's a question I always find hard to answer because I don't categorise favourite food by cuisine type but by the quality of the cooking– they can all be wonderful or awful, depending on the quality of the cooking.  It may sound simplistic, but a carefully executed dish using good quality ingredients is always a winner for me!
While I won't claim to have a single favourite cuisine, one thing's for sure: one of my favourite places to visit is India. I've been lucky enough to stay in the country on several occasions – sometimes for as long as a month – and I'm always overwhelmed by the sheer diversity of Indian food. I'm not talking just about the diversity of cuisines, from North to South, but also the diversity of formality and style, which ranges from street side to 5-star hotel, and from traditional cooking to modern techniques. And, as if this weren't enough, there's also the wonderful hospitality and the warm friendliness that you'll find wherever your travels take you in the country.
So, what are my fondest memories of dining in India? I've had far too many mouth-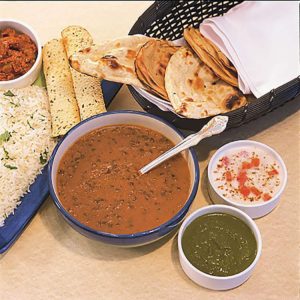 watering experiences to list them all, but there are some which have lodged themselves in my mind for being particularly enjoyable. Take, for example, Bukhara, situated in the ITC Maurya hotel in New Delhi–  the residence of choice for visiting world leaders, and other dignitaries. Dedicated to traditional Northwest cooking (hence its name), Bukhara employs a cooking method based on charcoal-grill and tandoori, so it's all dry heat, not a curry place. And its signature dish, Dal Bukhara, is about as good as it gets, when it comes to traditional dal. In fact, it's so famously good that many locals make it a mission to experience Dal Bukhara at least once in their lifetime. Having eaten there several times, I can see why!
But the ITC Maurya is home to more than just one superb eatery. The hotel also hosts Dum Pukht, which specialises in traditional dum cooking. This is a technique in which food is tightly sealed in a pot and cooked over a low heat. If you're the type who likes a bit of background to your food, you'll love Dum Pukht, as their menu makes fascinating reading with its detailed historical background of Dum cooking. A word of warning though – Dum Pukht offers no tasting menu, so you would be wise to go as a group of hungry foodies if you want to sample a wide variety of dishes.
If you're in South India, do make a visit to Dakshin in ITC Windsor Bengaluru (aka Bangalore). Specialising in classic dishes from the four southern states of India (the clue's in the name, as 'Dakshin' means 'South'), this excellent establishment has been delighting customers for some 30 years now, and is considered by many locals to be a culinary gem. Dakshin can also be found in Delhi and Mumbai.  While you're in Bengaluru, try not to miss Jamavar, a culinary jewel of The Leela Palace offering refined cuisines from both the southern and northern regions of India.
But if you really want to treat yourself, indulge in an overnight stay at the Taj Lake Palace.  Set amid the sumptuous surroundings of awhite marble palace "floating" on Lake Pichola, the restaurant, Neel Kamal (meaning "blue lotus"), oozes elegance and sophistication from every pore and offers a menu to match. Using local ingredients and wood-fired stoves, Neel Kamal is the perfect place to experience royal Rajasthani cuisine – and you're unlikely to find a more romantic and scenic setting in which to fully enjoy your meal. It's worth noting that Neel Kamal is exclusive to hotel guests and only available for dinner.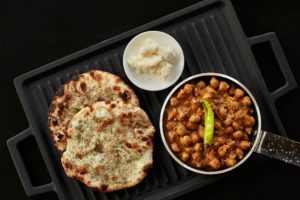 Which isn't the case at the Grand Trunk in Amritsar – a place that offers an all-day dining experience and has become a gathering spot for many families and friends for special occasions. What makes this place particularly noteworthy is its international menu which contains popular Punjabi food but made to 5-star hotel standard.  The kitchen team is very flexible and friendly with a determination to bring flavours from local street food onto a dining table. All you have to do is tell the manager that you want an experience of a local Panjabi meal, and he'll do the rest. It's perfect for late night eating, especially after an evening visit to Golden Temple, but it's worth remembering that there's usually a full house until 1 a.m., so do book at least a day in advance.
Finally, on this whistle-stop tour of outstanding Indian restaurants, we return to Delhi –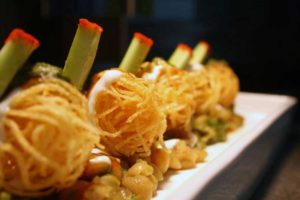 specifically, to Indian Accent, located at The Manor, a modern luxury boutique hotel in New Friends Colony, South Delhi. Founded in 2009, it's already known to many global foodies as it was listed in the Asia's 50 Best Restaurants. Indian Accent offers a unique menu that's the brainchild of the ground-breaking and visionary Chef Manish Mehrotra, whose creativity in fusing modern and traditional have to be seen – or, more accurately, tasted – to be believed. Backed up by impeccable service and expert explanations of each dish, it has to be one of the finest dining experiences I've ever had. If you have a bucket list, I recommend that you put this place on it!
Finediningindian Magazine previous issues
---
[thb_image image="4358″ img_link="url:http%3A%2F%2Ffinediningindian.com%2F2017%2F04%2F15%2Ffinediningindian-food-magazine-march-issue-2017%2F|title:Finediningindian%20Magazine%20March%202017%20Issue|target:%20_blank|"]
[thb_image image="4356″ img_link="url:http%3A%2F%2Ffinediningindian.com%2F2017%2F04%2F15%2Ffinediningindian-food-magazine-march-issue-2017%2F|title:Finediningindian%20Magazine%20April%202017%20Issue|target:%20_blank|"]
[thb_image image="4455″ img_link="url:http%3A%2F%2Ffinediningindian.com%2F2017%2F05%2F07%2Ffinest-indian-food-magazine-may-2017-issue%2F|title:Fine%20dining%20Indian%20Food%20Magazine%20May%202017%20Issue||"]
Submit Your Review
[yasr_visitor_multiset setid=2]