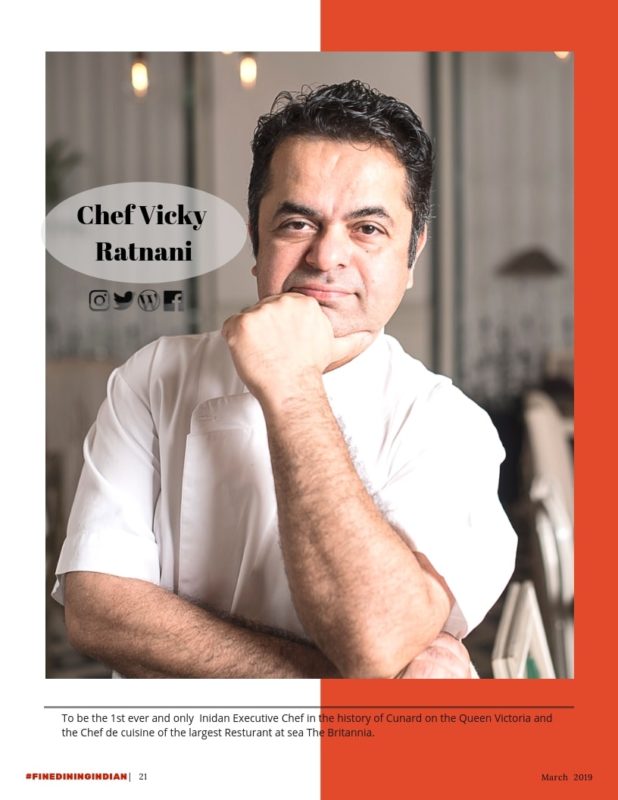 Chef Vicky Ratnani
Chef Vicky Ratnani
---
"To be the 1st ever and only Indian Executive Chef in the history of Cunard on Queen Victoria and the Chef de cuisine of the largest Resturant at sea The Britannia."
---

How you become a chef and why we asked to Chef Vicky Ratnani?
I think it was the love of eating all kinds of food from everyones tiffin in school that I think subconcsiously started it all. I was then looking for a path in the world of hospitality, got into school , begin to realize how much I liked cooking and was getting good at it . my teachers  and close friends pushed me, motivated me, encouraged me .  Then I found my solace in the kitchen
What message you want to give to young chefs out there ?
Only if you are passionate, and willing to sacrifice a lot of time to learn , take this up as a career. This is a serious business and not as glossy and glamourous as you think  Its blood, sweat and tears
how you explain your style of cooking?
Liberal, free stlye, progressive and produce  driven.
What is your memorable achievement in your professional life? why it was important for you ?
To be the 1stever and only  Inidan Executive Chef in the history of Cunard on the Queen Victoria and the Chef de cuisine of the largest Resturant at sea The Britannia.
How you develop your team, what responsibilities and freedom you give to your juniors ?
Development is an on going non stop process. My interaction, sharing , caring and pushing is a part of the DNA . I pick and choose my people and very frankly tell them , that My team is not just Team, its family. I do take accountability for them, freedom comes after trust and maturity. I do goive them a free hand sometimes but at the same time my team understands what I am looking for and they exactly know what I expect from them .
How you keep up to date with a constantly evolving world's culinary scene?
R&d, Travelling, reading, experimenting, checking out what chefs and cooks are doing around the world. Going to food markets, and trying to eat, taste, smell anything I have not done before.  I love buying books from great chefs ans even some home cooks to study
What would you like to do more for a chef support system in helping each other in achieving success? Cross promotion ..
Collaborate with light minded chefs around the world. Mentor young hardworking cooks and chefs
Open a cooking studio
pop ups at different places in the world
Any daily rituals you do and how it helps you to stay active, Motivated ?
I hit the gym, music, meditate, cook with my daughter once a week.
I read and just pick up ingredients and cook with no agenda sometimes…..
How you judge a young chef and how you test him for the long term? 
The way he handles a saute pan, a knife and how he handles produce.
For the long term, I check for how long , where and for how long he has worked in a particular place and why…..tells me a lot about the person and his agenda.
Name top five Indian restaurants around the world according to you?
BUKHARA, DELHI
DUM PUMPAKT, DELHI
INDIAN ACCENT, DELHI
KARIMS JAMA MASJID, DELHI
KARAVALLI, BENGALURU
Name Top Five Indian chefs of all Time according to you ?
MANJIT GILL, ANANDA SOLOMON, IMTIAZ QURESHI
A Book or an Incident that influenced you and how it changed your approach to life?
AUTOBIOGRAPHY OF A YOGI BY PARAMHANS YOGANANANA Taught me faith, belief and the right path anything is possible  Miracles exist if you can make them happen
how you choose an Indian restaurant to eat with the family, what dishes you look for in the menu?
A good selection from the tandoor, and sigri.
A smashing dal, rotis and Biryani
Does classic or modern dishes stand ahead of time , why according to you ?
Cuisine is like fashion…everyone has their own style and time …good tasty food prepared with love and great produce will always survive.
DENIMS NEVER DIE, THEY JUST FADE AWAY
Finediningindian Magazine previous issues
---
[thb_image image="5008″ img_link="url:http%3A%2F%2Ffinediningindian.com%2F2017%2F07%2F05%2Ffine-dining-indian-magazine-july%2F|title:Finediningindian%20Magazine%20July%202017%20Issue|target:%20_blank|"]
[thb_image image="4356″ img_link="url:http%3A%2F%2Ffinediningindian.com%2F2017%2F04%2F15%2Ffinediningindian-food-magazine-march-issue-2017%2F|title:Finediningindian%20Magazine%20April%202017%20Issue|target:%20_blank|"]
[thb_image image="7707″ img_link="url:https%3A%2F%2Ffinediningindian.com%2F2019%2F03%2F07%2Ffine-dining-indian-food-magazine-march-2019%2F|title:Fine%20dining%20Indian%20Food%20Magazine%20March%202019%20Issue|target:%20_blank|"]
Submit Your Review
[yasr_visitor_multiset setid=0]