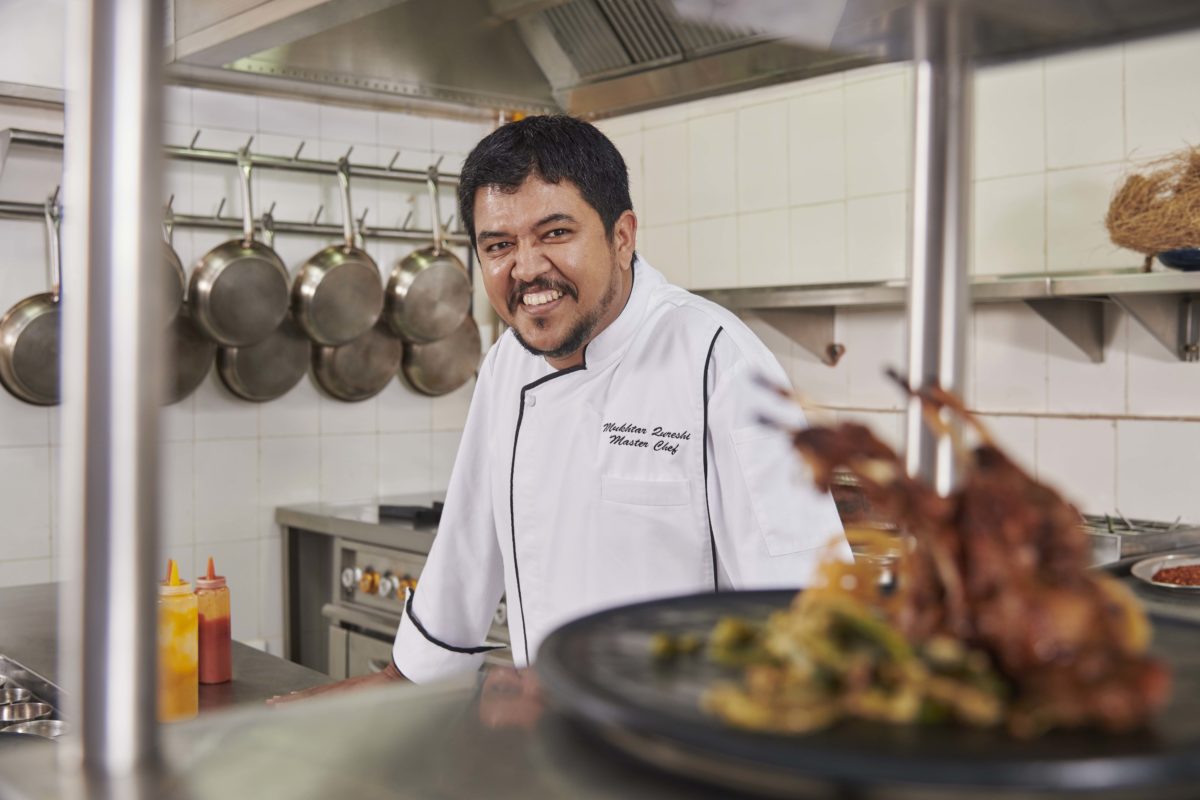 Chef Mukhtar Qureshi,

Chef Mukhtar Qureshi
Master Chef at Ummrao in Courtyard by Marriott, Mumbai

How did you become a chef and why?
It was inheritance with the Lucknow times and I gave it a thought when I came to Mumbai looking for a job where I began as a trainee in Copper Chimney where I learnt to make rumali roti. I have always had a love for food since childhood it makes me happy and when people like my food it makes me feel very satisfied.For me, consistency is the key and that matters the most. No compromise on that. Raw material holds great importance. Each dish that is cooked taking its own sweet time will always have a better taste and that should always come from the chef's heart
What is your most memorable achievement in your professional life? why was it important for you?
In the year 2011, I catered to 600 people at a wedding function where I cooked 199 dishes which was a great achievement for me. The year after that gave me the prestigious Best Chef award for Neel
What is your concept for a forming a new menu for your restaurant and how do you shortlist the dishes?
Being a Qureshi, I focus more on the kebabs and non veg dishes. A biryani in a menu is a must for me and so is the dal. A menu composition depends on the restaurant covers. For instance, if a restaurant has 60 covers then my menu would have 35 dishes
How do you develop your team, what responsibilities and freedom do you give your subordinates?
I give personal training to the team and educate them prior for a month or two. I teach them to focus on the visual aspect with taste followed by service. I let the team innovate different dishes which is a part of experimentation and boosts their morale
What message do you want to give younger chefs out there ?
I quite like the zeal in young chefs out there trying to experiment with all the local food. We do need young chefs like them who will make Indian food more popular. It's indeed a learning from them too
How do you keep up to date with the constantly evolving world's culinary scene?
Everyone has its own style of cooking and we should not get diluted in it thereby adhering to the authenticity of the product that we have always been known for
One of your worst food critic or comment you received and how did you deal with it?
One of the worst comment that I got was when the critic thought that the clove in the curry was a fly. I tried explaining to him and instead of taking it negatively I visually showed it to him to make him realise the right thing. There has been other such instances too but the guest is God and if he/she isn't satisfied, I apologize, seek for their recommendation and work on it to make them happy.
What would you like to do more for a chef support system in helping each other in achieving success? Cross promotion, etc.
The more you give an extra hand to the chefs they would appreciate it and its always better to work together removing the negativity in the system if any. We need to give our back to each other and elevate together
Any daily rituals you do and how it helps you to stay active, motivated ?
Check on all the guest feedback and daily meet with the guests to understand how and where things need to improve and where I have exceeded expectations
How do you judge a young chef and how you test him for the long term?
By the interest, he/she shows in the food and his way of working would tell me everything about the young chef. Passion is the key.
what will be Indian cuisine & Indian chef's future according to you, what should be Indian chefs approach in making Indian cuisine best in the world?
Hindustan me khazana he khazana hai !!!
I already feel that we have been delayed in bringing forward our cuisine but Indians are typically slow but steady in their pace. Just have faith in your product and cuisine the rest will be taken care by planning throughout.
Name top five Indian restaurants around the world according to you?
Bukhara, Masala Library, Indian accent, Bombay canteen, Rasoi
Name Top Five Indian chefs of all Time according to you ?
Imtiaz Qureshi, Anand Soloman, Ishtiaq Qureshi, Sanjeev Kapoor, Ranveer Brar
A Book or an Incident that influenced you and how it changed your approach to life?
I am very fond of reading old books. Royal dining Nawab by Muzafar Ali book gave me a ray of my all my ancestor that I had forgotten about and never knew. This gave me all the more reasons to do justice to my food and its royalty
How do you choose an Indian restaurant to eat with the family, what dishes do you look for in the menu?
Daal and rice first with kebab and curry holds utmost importance
Does classic or modern dishes stand ahead of time? why according to you ?
It's because people are liking it and chefs are making amendments in those dishes to make it look big .  Master Chef, Mukhtar Qureshi, at Ummrao, Courtyard By Marriott, Mumbai, At age 10, he would wander into his Family's legendary dhaba in Lucknow – the city of Kebabs & Nawabs. The curiosity to see how fine food had a seamless power to invoke emotions made him come back everyday.






Article by Sana Qureshi.
Correspondent, (Mumbai)
Finediningindian Magazine previous issues
---
[thb_image image="5008″ img_link="url:http%3A%2F%2Ffinediningindian.com%2F2017%2F07%2F05%2Ffine-dining-indian-magazine-july%2F|title:Finediningindian%20Magazine%20July%202017%20Issue|target:%20_blank|"]
[thb_image image="4356″ img_link="url:http%3A%2F%2Ffinediningindian.com%2F2017%2F04%2F15%2Ffinediningindian-food-magazine-march-issue-2017%2F|title:Finediningindian%20Magazine%20April%202017%20Issue|target:%20_blank|"]
[thb_image image="7707″ img_link="url:https%3A%2F%2Ffinediningindian.com%2F2019%2F03%2F07%2Ffine-dining-indian-food-magazine-march-2019%2F|title:Fine%20dining%20Indian%20Food%20Magazine%20March%202019%20Issue|target:%20_blank|"]
Submit Your Review
[yasr_visitor_multiset setid=0]