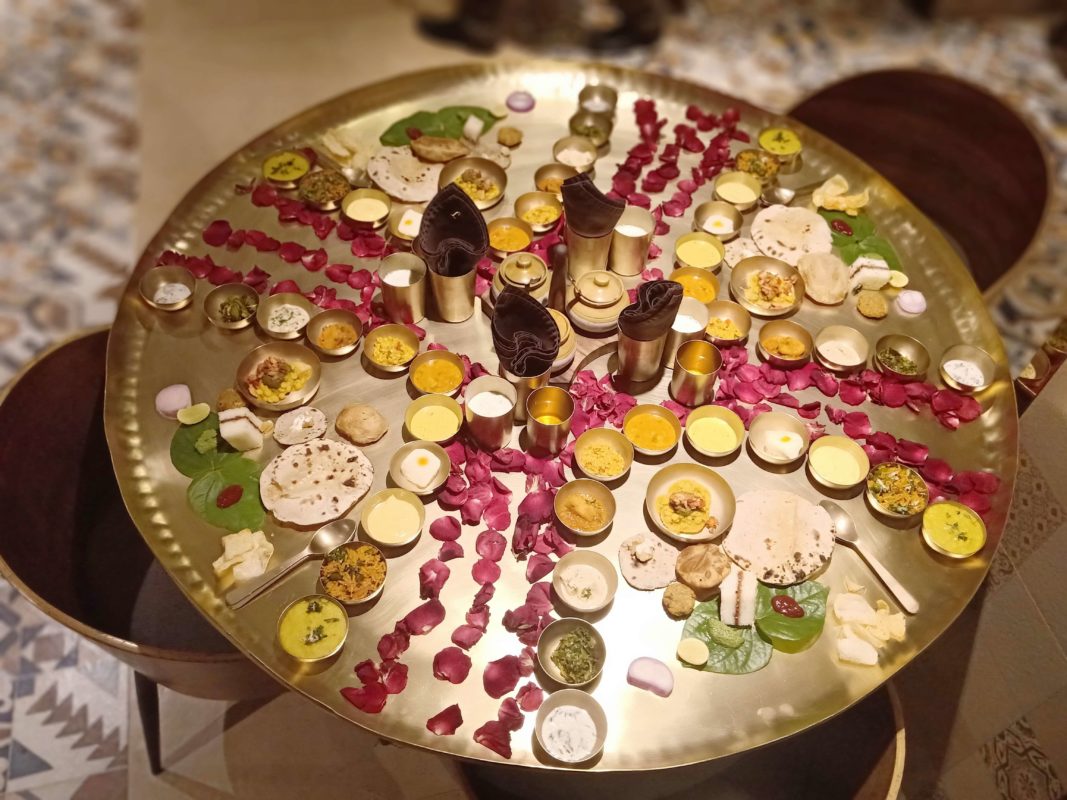 Maharaja Bhog
Maharaja Bhog  Big Family Thali
---
Article by special correspondent Sana Qureshi
---
Maharaja Bhog big  Family thali ( for which pictures are attached) stands for  the concept that "poora parivaar khaaye saath'
Four to Five people can dine at the same time, in that sense it is the biggest thali, that means 4 to 5 regular thalis are served to individuals in the big thali  thereby giving the dining expereince  with the feeling of togetherness 

Thali servings

Enjoy a carefully spiced & vibrantly presented selection of freshly prepared dishes served in a traditional bronze thali, comprises of salads, farsan (both fried & Steamed), along with Special dish of the day like dal bati ,dal pakwan etc , Veg (4 diff type) besides Lentils (4 types), variety of rotis, different type of rice & khicdhi. To cap this off there is a choice of mouth watering sweets ( two to three ) & off course that too unlimited.   "Maharaja Bhog also serves special kesar chandan sherbat , herbed buttermilk, and variety of papaddum.
Founder & Managing Director of 'Maharaja Bhog …

Mr Ashish Maheshwari says " the idea of big thali is to keep the spirit of togetherness alive in today's world, the busy schedules these days do not allow people to dine together and maharaja bhog ensures a royal dining experience with family "
" maharaja bhog believes in atithi devo bhavah  that means guests are like Gods and its our duty to give them a fulfilling experience of royal food with their family…  
Authentic, Rajashtani, Gujrathi Traditional Indian Cuisine, served in hand-made "Royal Bronze mahathali brings families 
close and the memories they create over food are as delicious as our cuisine "
Maharaja bhog big thali available at all outlets of maharaja bhog across Mumbai 
……………………………………………………………………………..
Finediningindian Magazine previous issues
---
[thb_image image="5008″ img_link="url:http%3A%2F%2Ffinediningindian.com%2F2017%2F07%2F05%2Ffine-dining-indian-magazine-july%2F|title:Finediningindian%20Magazine%20July%202017%20Issue|target:%20_blank|"]
[thb_image image="4356″ img_link="url:http%3A%2F%2Ffinediningindian.com%2F2017%2F04%2F15%2Ffinediningindian-food-magazine-march-issue-2017%2F|title:Finediningindian%20Magazine%20April%202017%20Issue|target:%20_blank|"]
[thb_image image="7707″ img_link="url:https%3A%2F%2Ffinediningindian.com%2F2019%2F03%2F07%2Ffine-dining-indian-food-magazine-march-2019%2F|title:Fine%20dining%20Indian%20Food%20Magazine%20March%202019%20Issue|target:%20_blank|"]
Submit Your Review
[yasr_visitor_multiset setid=0]