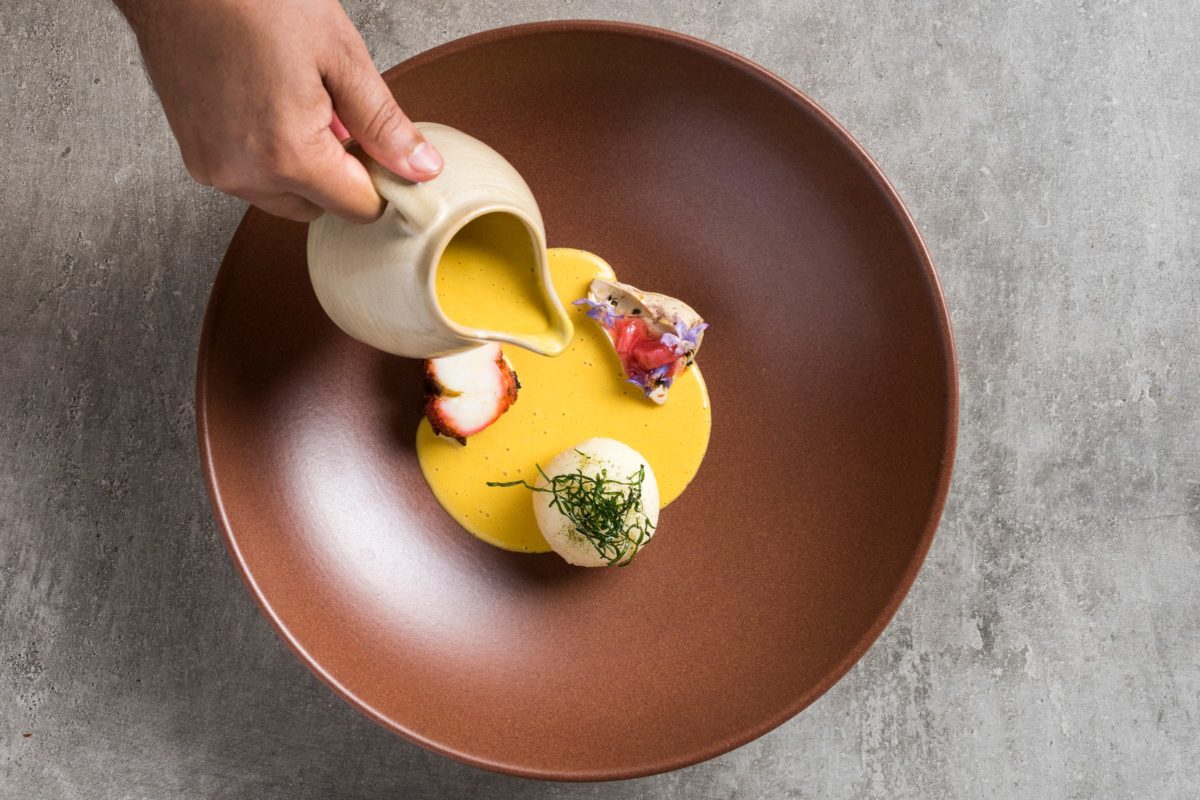 Rooh Chicago
[yasr_overall_rating]
About ROOH Chicago Indian Restaurant
The Chicago culinary scene continues to rise with the addition of this upscale, progressive Indian restaurant to the city's foodie famed "Restaurant Row".
Rooh Chicago Indian Progressive Restaurant
The highly-acclaimed Progressive Indian restaurant and cocktail bar rooted in San Francisco, will open its second location this Spring in the city's West Loop neighborhood at 736 W Randolph.

A Progressive Indian restaurant and cocktail bar nestled in the heart of the city's West Loop neighborhood. Meaning soul or spirit, ROOH brings the spirit of modern India to Chicago through the restaurant experience by way of relaxed communal dining and world-renowned cuisine from Executive Chef Sujan Sarkar and experienced restaurateurs Anu and Vikram Bhambri in partnership with local Chicago restaurant group, Shindig Hospitality.
The vibrant and modern restaurant design provides a quintessential platform for Chef Sarkar's cuisine, mixing traditional Indian flavors with modern gastronomic techniques and local Chicago ingredients. ROOH's menu guides guests through a culinary journey of Indian cuisine, highlighting regional dishes from India. ROOH's cocktail list features drinks inspired by ancient Ayurvedic wisdom and the six tastes, or rasas, sweet, sour, salty, pungent, astringent and bitter, mixing Indian spices and house made shrubs with regional spirits.

The standout culinary concept conceived by renowned Chef Sujan Sarkar in partnership with experienced restaurateurs Anu and Vikram Bhambri, is set to be one of the most anticipated restaurant openings of 2019. With its innovative cocktail programming, and eclectic, modern design, ROOH, meaning soul or spirit, is determined to bring the spirit of India to the Windy City and provide Chicago locals and visitors alike with a never-before-seen dining experience.
Fusing together rich cultural tradition and the vibrancy of modern India, key Indian Designer Debashish Sarkar, as well as Chicago-based Box Studios' Gwen Harley (Senior Lead Designer), Ferdinand Dimaling (Principal/Architect), and Carlos Rivera (Technical Director) have constructed an unparalleled aesthetic within the interior of the restaurant. Split into three floors, ROOH Chicago aims to depict a distinct sense of style and experience at every level.

To pay homage to the restaurant's Indian roots, the design of the space employs the use of aged color washed walls, rich fabrics, ornate tiles, as well as textural panels and curtains. From luxurious, crystal chandeliers dripping from the ceiling to imported floral wall coverings from prominent Indian fashion designer, Sabyasachi, and an eye-catching mural of a woman confidently gazing towards the first floor bar area, ROOH Chicago has incorporated elaborate details into every corner of the restaurant to evoke a sense of discovery, culture, and place.
With an emphasis on providing an innovative interpretation of authentic, new-age Indian cuisine, Executive Chef Sujan Sarkar has developed a unique and elevated dining experience for patrons. Chef Sarkar, a Times Chef of the Year inIndia, will combine the country's rich traditional and regional flavors with the use and influence of local Chicago ingredients and modern techniques to create his beautifully plated and flavorful dishes. To complement the outstanding food menu, Rooh Chicago Indian Progressive Restaurant offers a distinguished beverage program that allows guests to choose from 12 seasonal cocktails based on Ayurveda and its six tastes, or rasas – sweet, sour, salty, pungent, astringent and bitter.
The worlds Best Indian fine food and Luxury life stye magazine "Finediningindian".
In our September Issue we cover few great Indian chefs . Amazing Recipes from the talented Chefs .
An inside story from an Influencer who focuses On Food .
Inspiring story of chef Bali from Oberoi centre for Learning and development .
Chef anupam Gulati of Fourseasons Mumbai
we are Growing bigger and Bigger in our reach
Sincere Gratitude
for our success and leading the Indian Cuisine Vision
Finediningindian Magazine previous issues
---
[thb_image image="5008″ img_link="url:http%3A%2F%2Ffinediningindian.com%2F2017%2F07%2F05%2Ffine-dining-indian-magazine-july%2F|title:Finediningindian%20Magazine%20July%202017%20Issue|target:%20_blank|"]
[thb_image image="4356″ img_link="url:http%3A%2F%2Ffinediningindian.com%2F2017%2F04%2F15%2Ffinediningindian-food-magazine-march-issue-2017%2F|title:Finediningindian%20Magazine%20April%202017%20Issue|target:%20_blank|"]
[thb_image img_link="url:http%3A%2F%2Ffinediningindian.com%2F2017%2F05%2F07%2Ffinest-indian-food-magazine-may-2017-issue%2F|title:Fine%20dining%20Indian%20Food%20Magazine%20May%202017%20Issue||" image="7339″]
Submit Your Review
[yasr_visitor_multiset setid=2]