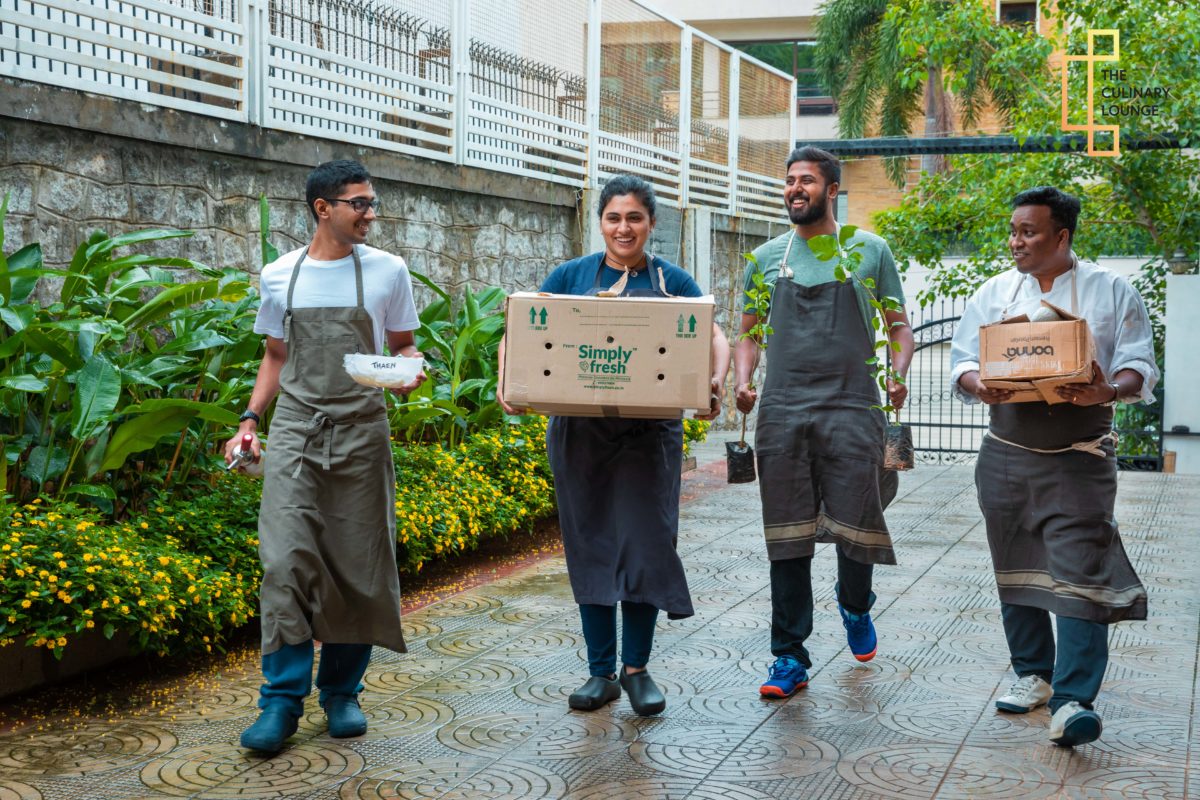 LORE
[yasr_overall_rating]
LORE Bengaluru a new age Indian restaurant Startup

Lore's PopUp series Is set to take Bengaluru's Culinary Scene To The Next Level,Conceived by the Atria Group, Lore is all about giving our guests a multi sensory dining experience; Lore's restaurant is slated to open in the First quarter of 2020,

Lore's mantra is to leverage the magical ability of food to tell stories, create new memories and rekindle old ones while giving importance to quality produce, directly working with farmers and artisans.
Pop Ups give chefs the creative freedom to control the narrative of the diners experience." says Kaushik Raju Director – Co Founder of LORE Bengaluru.
JE, the Chef Patron- Co Founder says "Innovation is the key to unlock imagination and a great team with similar vision is all that matters to accomplish a dream. This is what I will bring to Lore," he will bring fresh thinking to traditional recipes and invariably create new ones along the way too.
Mythrayie says "i am really excited to be here in Bangalore as i believe the diners here have a discerning palate and will enjoy what team Lore brings to the table ". The head chef at LORE Bengaluru, she did a stint with Chef Rene of NOMA Copenhagen . She looks at things differently, not just cooking but everything about food, cuisine, and even the work culture at kitchens around the world.

Cuisine of LORE Bengaluru
Lore's cuisine can be defined as "Eclectic", It uses Locavore ingredients and creates menus which has a story to tell,
Lore's concept revolves around its
4 pillars Of Core
Locavore | Omnisense | Retrospective | Eclectic
Locavore:  locavoreis a movement of people who prefer to eat foods which are grown or farmed relatively close to the places of sale and preparation.
Omnisense : is a conceptualised word by Lore, in the same context of -Omnisciencecomes from the Latin omnismeaning "all" and scientiameaning "knowledge." Omniscience is a state of possessing all the knowledge there is — pretty impressive. In a religious sense, people believe in a higher being that has omniscience, What we refer here is a play of the senses.
Retrospective : Retrospective means looking back, Food and its play on Nostalgia is what we are referring to.
Eclectic : one who uses a method or approach that is composed of elements drawn from various sources.
Farmlore : is the farming space dedicated for Lore, There we grow seasonal produces using




The worlds Best Indian fine food and Luxury life stye magazine "Finediningindian".

The worlds Best Indian fine food and Luxury life stye magazine "Finediningindian".
In our September Issue we cover few great Indian chefs . Amazing Recipes from the talented Chefs .
An inside story from an Influencer who focuses On Food .
Inspiring story of chef Bali from Oberoi centre for Learning and development .
Chef anupam Gulati of Fourseasons Mumbai
we are Growing bigger and Bigger in our reach
Sincere Gratitude
for our success and leading the Indian Cuisine Vision
Our Vision
" To be the world's best fine dining Indian cuisine website and magazine"
We strive to achieve this by providing a platform for all Indian food lovers around the globe.
Finediningindian Magazine previous issues
---
[thb_image image="5008″ img_link="url:http%3A%2F%2Ffinediningindian.com%2F2017%2F07%2F05%2Ffine-dining-indian-magazine-july%2F|title:Finediningindian%20Magazine%20July%202017%20Issue|target:%20_blank|"]
[thb_image image="4356″ img_link="url:http%3A%2F%2Ffinediningindian.com%2F2017%2F04%2F15%2Ffinediningindian-food-magazine-march-issue-2017%2F|title:Finediningindian%20Magazine%20April%202017%20Issue|target:%20_blank|"]
[thb_image img_link="url:http%3A%2F%2Ffinediningindian.com%2F2017%2F05%2F07%2Ffinest-indian-food-magazine-may-2017-issue%2F|title:Fine%20dining%20Indian%20Food%20Magazine%20May%202017%20Issue||" image="7339″]
Submit Your Review
[yasr_visitor_multiset setid=2]