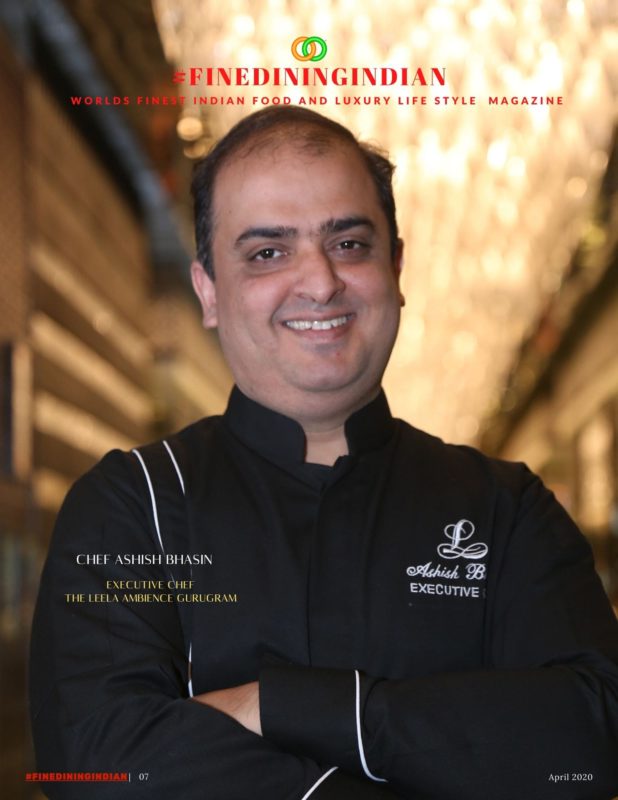 Chef Ashish Bhasin
[yasr_overall_rating]
Executive chef Ashish Bhasin
The Leela Ambience Gurugram Hotel & Residences
Article by Sana Qureshi | Special Correspondent – Mumbai

How you become a chef and why ?
People eat to live and Punjabis live to eat is something I believe in. My love and passion for food has given me the strength to distinctly feel each flavor. I noticed this ability of mine when I was in college and, therefore, made up my mind about choosing cooking as a profession.
I participated in various kinds of activities during my school days. An all-rounder, some would say, but particularly passionate about scouting. We went for many camping trips and would have to make our own food on a chullah. The cooking bit of the trip always left me fascinated, but never once did I think that it would become my profession. In fact, at that point of time I was sure I would join the Defense Forces. In 1994, as my most of my friends were gearing up for hotel management entrance exams, my inquisitive mind too would wonder if I had an aptitude for working in hotels. This thought led me to sit for the exam. To mine and everybody else's surprise, I cleared the exam and decided to go for the course. On the very first day of college I stood in the middle of the kitchen telling myself that this was the place for me.
Buy Indian cuisine Evolution Cook Book 
What message you want to give to young chefs out there ?
Food is the best thing that has happened to mankind. Enjoy food, but respect it. Always remember, numerous people go to bed without a meal every day. So eat to your heart's delight, but never waste an iota of this precious resource. Another thing worth keeping in mind is that food is a very simple thing, don't complicate it. Respect ingredients and cook from your heart.
How you explain your style of cooking?
My cooking style is based on the rules of French cuisine:
No compromise on taste
Each and every ingredient deserves its individual respect
Food should be as less complicated as possible
Less is more.
I am a Fan of Slow Cooking. Aromas, Juices, Colour Come out Beautifully in the Slow Flame

What are your memorable achievement in your professional life ? why it was important for you ?
The turning point in my career was the opening of one of the most iconic restaurants, 360 Degree at The Oberoi, New Delhi. As part of my research, I got the opportunity to travel across the world, sampling cuisines from the by-lanes of Bangkok to the Michelin starred restaurants of Hong Kong.
My greatest achievement is my family. I am a proud father of two children; one is 16 and the other 10. The thing that matters the most to me in life, is to be a good father to them and a loving husband to my wife. I try to spend as much quality time with my family as I can, even if that means not having a social life. On my days off from work, I love to cook for my little ones and wife and give them as much happiness as I can. These days my little one cooks with me and that's the most satisfying thing for me as a father and a chef.
Apart from these: Awards and recognition Executive chef Ashish Bhasin
Countries "Top 5 Chef" (Hotels) Award 2017 by food food
Featured in top chef list by Mr. Vir Sanghvi
Was awarded silver hat by Indian culinary forum as the best chef in country with less than 22 years of experience
Featured among Super talented top 20 chefs by uppercrust
Topped both theoretical and practical assignments during HOMT program at Taj
Gold medallist at all India Chef competition during college days
I am also known for taking culinary initiative which seeks to revisit and revive the lost
and dying food heritage of India.
What is your concept of a writing a menu for your Restaurant and how a new dish makes to the menu list?
Keep it simple, do justice with flavours and guest is the king is my first few mantras. Apart from these I also believe the health of my guests is my most important responsibility. My menu provides low calorie, high protein and high fibre options and my team is well-trained to create dishes for guest with special needs. So, there's something here for everyone!
I have a team of Chefs who are quite experienced. We keep doing trying, taste together, discuss , modify and keep repeating this till we all agree that yes we have created a master piece.
How you develop your team, what responsibilities and freedom you give to your juniors?
I don't think I develop any one; we just work together and learn from each other. I being in the system for long just share my experiences with them, try to motivate them and if require guide them. They all are super stars and they just outperform.
Jr . Chefs empower to do right things and don't have fear of failure. They give their best and we all help each other with their decision. We all stand by each other if things go south and we celebrate our success together ( which happens more J )
How you keep up to date with a constantly evolving world's culinary scene? Executive chef Ashish Bhasin
I am a big time social media addict, learn a lot from there what's happening around. I am lucky my team also research a lot and then we keep discussing, share information with each other too.
We love to read a lot also.
One of your worst food critic or comment you received and how you dealt with it?
I take each and every comment seriously, analyse them and then react. Some time few comments are personal preferences. Success and failure are two sides of the same coin.
A comment I remember was from Antoine lewis my dear friend and a senior journalist in 2017. He highlighted few things which made us unhappy, not because he said wrong, but because we have a scope and we overlooked few things. We immediately reacted and made him try and ensured he compliments us.
What would you like to do more for a chef support system in helping each other in achieving success?
Share experiences, Cross promotion, information sharing can help in developing all of us
Any daily rituals you do and how it helps you to stay active, Motivated ?
 I believe in one mantra " what best now" . in any situation good or bad, I don't sit and cry over the things which are not in my hand, but I think what can I do differently to achieve the best in current situation.
How you judge a young chef and how you test him for the long term? 
Depending on his experience I try to judge his knowledge and skill. For me the most important thing is his attitude toward work, guest and colleague.

What will be Indian cuisine & Indian chef's future according to you, what should be Indian chef's approach in making Indian cuisine best in The World?
Going back-to-roots and exploring regional cuisine will gain prominence based on a culinary initiative we undertook to revisit and revive India's forgotten food heritage, which was well appreciated. I think tribal cuisine will also make its way into main stream.  Focus on freshness and flavours is returning and food will be simpler, yet creative. Local product will achieve importance. Farm-to-fork is catching up and chefs and organisations are working with farmers. Fusion food and regional cuisines will take the world by storm. For instance, Eurasian cuisine, while is already popular, will move to the next level. Any vogue that is not backed by a reason is unpredictable. It may attract viral attention but is characterized by a brief shelf life. You can make money with both fad and trends, but you need to be sure what you are aiming for. In terms of fads, be present in the initial stages to gain fame, but move out before it fades. In terms of trend, you need to have patience, plan and execute. If you can gauge the right trend, you can be in action longer.
Name Top Five Indian chefs of all Time according to you ?
Chef Atul kochhar ,Chef Vineet Bhatia, Chef Sanjeev Kapoor , Chef Nita nagraj , Chef Rajeev janveja
are few of my all time favourite chefs.  The list will be huge if I share all. as per Executive chef Ashish Bhasin
How you choose an Indian restaurant to eat with the family, what dishes you look for in the menu?
Being a chef, I keep exploring new restaurant and keep trying new dishes.
Does classic or modern dishes stand ahead of time , why according to you ?
I think both are important. Evolution is a must at the same time sticking to our roots is equally important.
[thb_gap height="30″]
Finediningindian Magazine previous issues
---
[thb_image image="5008″ img_link="url:http%3A%2F%2Ffinediningindian.com%2F2017%2F07%2F05%2Ffine-dining-indian-magazine-july%2F|title:Finediningindian%20Magazine%20July%202017%20Issue|target:%20_blank|"]
[thb_image image="4356″ img_link="url:http%3A%2F%2Ffinediningindian.com%2F2017%2F04%2F15%2Ffinediningindian-food-magazine-march-issue-2017%2F|title:Finediningindian%20Magazine%20April%202017%20Issue|target:%20_blank|"]
[thb_image img_link="url:http%3A%2F%2Ffinediningindian.com%2F2017%2F05%2F07%2Ffinest-indian-food-magazine-may-2017-issue%2F|title:Fine%20dining%20Indian%20Food%20Magazine%20May%202017%20Issue||" image="7339″]
Submit Your Review
[yasr_visitor_multiset setid=2]