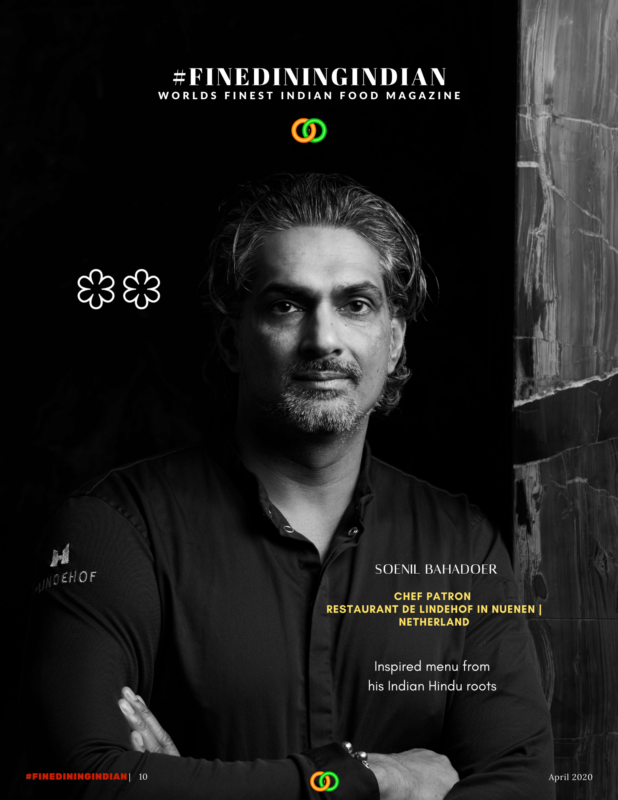 Chef Soenil Bahadoer
Two Michelin Star Indian Chef
Soenil Bahadoer

Read about Two Michelin Star Indian Chef Soenil Bahadoer his humble beginnings, His  started from bottom as a kitchen helper rose to chef patron earning two Michelin stars.
What is your Motive being a chef ? 
My parents brought up the culture in which I was cooking in the kitchen from morning until evening. The conviviality and the delicious result is my motivation
What is  your style of cooking?
Transforming soul food to fine dining 
What are your memorable achievement in your professional life ?why it was important for you ? 
Achiving 2 michelin stars, chef of the year 2020 Gault Milau and the 25 year jubilee of my restaurant. It is important to have achievements to keep motivated. 
How you plan a restaurant menu , how you ensure the menu is like ?
Inspirations of culture foods and my traveling.
How you develop your team, what responsibilities and freedom you give to your juniors ? 
To let them free in their way of thinking and introducing new ideas so they can develop themselves. 
How you keep up to date with a constantly evolving world's culinary scene? 
To involve yourself to be inspired and to inspire. 
One of your worst food critic or comment you received and how you dealt with it? 
That they didn't like our style of cooking, because of the spices. To deal with it I told myself that tastes are different for each person, and that if they didn't like it we're not the restaurant for them.

What would you like to do more for a chef support system in helping each other in achieving success?
Cross promotion .. To give assignments to other chef's if I can't take it or if it suits them better so they have the chance to prove them-self.  
Any daily rituals you do and how it helps you to stay active, Motivated ?  
Sport and yoga. To stay focused and to think clearly.
How you judge a young chef and how you test him for the long term? 
They have to be passionate, perseverant and talented. I test them to let them work to my will.
What should be Indian chefs approach in making Indian cuisine best in The World?
India is very varied in tastes, experience, spices and combinations. Today it's a trend to eat vegetarian, there's no culture like the Indian that cook vegetarian. India is very involved cooking vegetarian feast you don't miss meat or fish.
Name top five Indian restaurants around the world according to you? 
Tamarind England, Kahani London, Indian Accent Delhi, Gagan Bangkok, Veeraswamy London, Hotel Karims Delhi 
Name Top Five Indian chefs of all Time according to you ? 
Manish Mehrotra, Vikas Khanna, Hari Nayak, Sanjeev Kapoor & Ranveer Brar .
a big inspiration.
What kind of restaurant you take your family to ? 
Were good food is made with love.  
Does classic or modern dishes stand ahead of time , why ? 
Classic, because everything that is modern was originally a classic dish.
Who you considered to be your mentor , How he /she helped you in achieving your Goal ?
My mom, because she knows the flavour of our culture. And every dish I'm proud of, first has to take me back to my childhood when mom was cooking.
What is your Life Goal in profession ? 
To have pleased guest leaving my restaurant. That they have experienced the whole concept and they will not forget it. 
How and why you chose start your own business ?
 To show that working hard pays off. Started at the bottom being a dish washer, working hard every day to become the chef/owner that I am today.
[thb_gap height="30″]
Submit Your Review
[yasr_visitor_multiset setid=2]