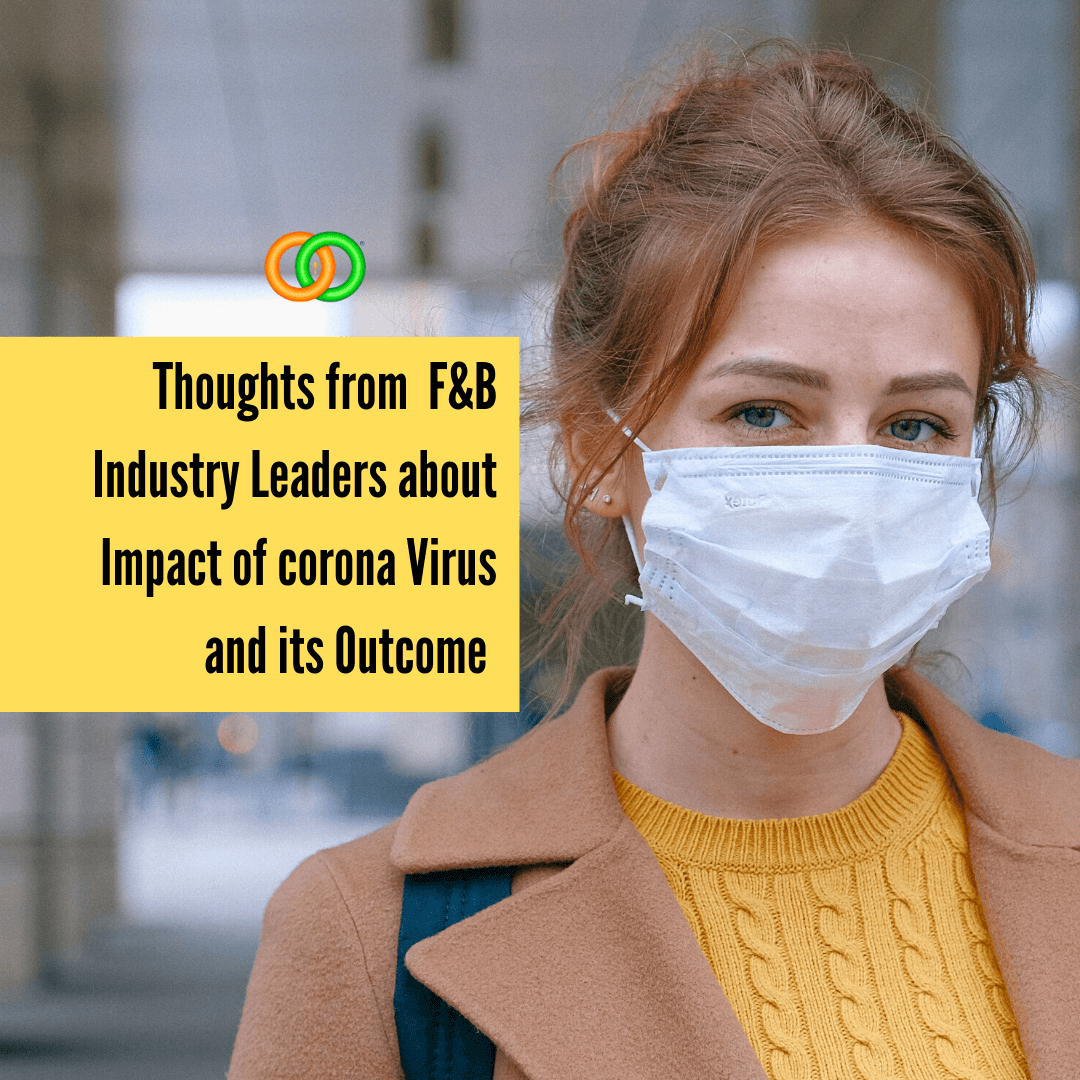 F&B Industry Corona Virus Effect
[thb_image alignment="center" image="9007″]
[thb_gap height="30″]
Impact Of Corona Virus 
Social Distancing is  a way of life now a days . Due to shrinked income ,conscious eating habit the Impact of corona virus  for restaurant & hotel industry Is huge . Over coming this situation will need a distinct branding to retail the trust amongst the targeted audience.
Partying spots will surely be taking an extra time to stand back on feet comparing to the fine dining restaurants.
There is definitely trouble & loss of business and we hale all powers to the hoteliers & restaurant owners & this difficult time too shall pass.
[thb_image alignment="center" image="9008″ img_size="300×600″]
[thb_gap height="30″]
[thb_gap height="30″]
We have asked Industry leaders from different capacity to give their observation on – the Impact Of Corona Virus 
The rapidly increasing spread of Covid-19 has undoubtedly left every business towards a downward graph. Food & hospitality is one of the most effected industry to suffer the back lash of the pandemic. It's one of the first to suffer & the last to recover the consequences of the situation.
Foreseeing the growth graphs & predictions, Fine Dining Indian has gathered insights from few of the prominent hoteliers & restaurateurs.
Chef Pradeep Khosla
A versatile Chef, an independent hotel consultant. VP of Alcor, Jamshedpur, Director of Jungle Resort, Tadoba and a successful restaurateur.
"The clamp down in business activities all around would lead to a rather extremely slow recovery for the hospitality industry. Given an optimistic view my take for stand alone. It would be like a slow start by July and getting stable by mid-December . A near total recovery by April 2021 provided things remain normal. Hotels on the other hand might see a slow domestic recovery. By mid July with an increase in domestic vacations BUT looking at great deals and discounts. Inbound on the other hand could be a long wait which could be only by 2021 end or 2022 beginning"
It is nothing but obvious that the hotels & restaurant will have to go through a bad phase even after the pandemic is subdued as the economy will be riding through a dark tunnel. In Future People will be focusing on essentiality's. Than taking  a vacation or dinning at a decent restaurant.
Shantanu Prasad Roy
A prominent hotelier, Currently The PnL & Business Development Head at 3 Forks Hospitality. Been associated with The Rodas, The Orchid & Kohinoor Continental for a long time speaking on the  Impact of corona virus says,
"As per my knowledge it will at least take 6 months after everything opens to come back on track for the hotel & restaurant industry"
Due to the captured fear of being socially distanced for a long time, many events & festivals will also be hit hard as "By the time the scenario normalizes fear will still remain till sometime. Since people might avoid going to crowded places, situation will surely hit the events"
At a stage where people have been habitual to be self sanitized & socially distanced will the same trust for quality stay back or will it be a striking term to magnet the same reliability for the restaurants/hotels?
Will the need be to renovate the marketing mantras?
Komal Lath
Chief Initiator, Tute Consult – A Mumbai based Mar-com Agency.
"Marketing in these time will be remembered as BC, DC and AC (before Corona, During Corona and after Corona). Marketing has always been about consumers . The hospitality industry has to use this time wisely to understand their customers even better and change narratives on it. Trust along with a humane approach will set brands apart"
Speaking on the effect on Food pop ups & events, "We don't see revival of Events till atleast Q3 this year. At smaller levels, people do support local businesses . Events however the numbers and scale would be way watered down . But soon to pick u and back at pace by next year"
Gita Hari
Food/Travel/Lifestyle writer and Food Curator of Sattvik Tambrahm cuisine.
 "Remember marketing never goes out of fashion. Marketing now needs to be wisely & strategically planned, Restaurant reviewers and food writers can serve the purpose of generating visibility in the print media. Restaurants/hotels should adopt digital marketing, promote on their website, and hyper-segment their targets"
She suggests "Cut down on TV commercials and print ads . Since they tend to gobble up a big portion of the revenue"
For festivals & pop-ups, Gita believes that these will be welcome events for gourmets and food enthusiasts who have missed food promotions. Food pop-ups may even increase going by the way everyone seems to have turned into Master chefs (people post their culinary conquests on social media every day) during the pandemic"
Even when inter-segmenting the dining business would all category of restaurants flow with the same speed or will the bars, clubs & lounges be suffering deeper compared to fine dining restaurants?
Mr. Gurtej Singh Matharu
Asst. Operations Manager at Tropical Retreat Luxury Resort & Spa, Igatpuri.
A former restaurateur & an admiring hotelier who has been associated with top hotel chains.
 "We have always known that the fancy lounges & bar have a huge overhead & operating expenses over them, the entire business is volume driven since the outbreak of Covid 19 social distancing has been emphasised a lot which will definitely effect business for such places . A fine dining restaurant may still be less effected as it also has support of food delivery services with them. A standard restaurant will get preference for their hygiene standards maintained. Outlets with an open live kitchen can also attract more people towards them "

Mr. Nikhil Samani
Co-Director, Aureole Hotel and Resorts,
A successful restaurateur & an admired real estate professional. Taking the legacy of his father of expanding the catering & hospitality business which had started since 1970.
"The Lifestyle of people wouldn't change, it will be back, although it may take some time. As even now if you see many people on social media have already planned of what they are going to do post lock down & started jotting their bucket list"
Since Mr. Samani speaks about social media it reminds us of the different culinary challenges & quarantine cooking that people are engaging into.
Current passion for cooking & interest in attending or participating in a food festival surely has a strong connect.

Chef Kuldeep Singh
Coming from a small village of Uttaranchal with a deep passion for cooking, Being worked with hotel chains like Marriott, The Albeit Hotels. Singh is currently associated with Holiday Inn, Chennai as Chef de Cuisine.
"The charm of Food and Festival in our country is evergreen, the best example is the Taj Mahal Mumbai attack after effects and the comeback. People still have that love for that place and the loyal clients still prefer to go there with their loved ones"
"Industry will have to face after effects and have to go through the blunt of this global crisis but yes this will for sure end and the F&B outlets will again shine and will open up with all shimmers and tempting food and music for all our customers" .
[thb_gap height="30″]
[thb_border][thb_image alignment="center" image="8497″][/thb_border]
[thb_gap height="30″]
Submit Your Review
[yasr_visitor_multiset setid=2]