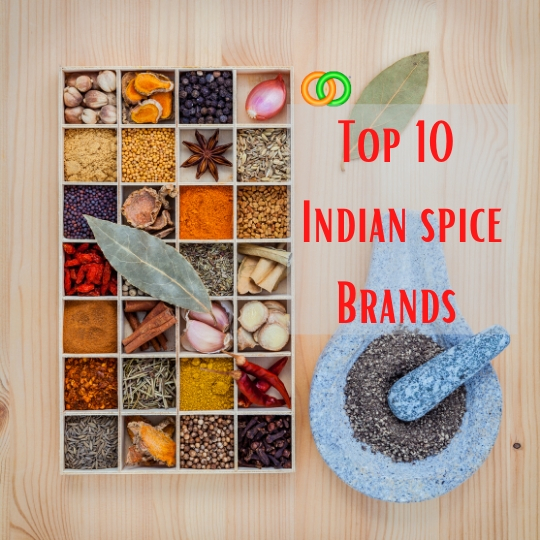 Spice Brands
Famous Indian spice Brands
We have researched and collected a list of 10 Famous Indian spice Brands. There are More new and existing brands we may have skipped . The collection of list we given here are no way patronising their spice quality . This only for you to be aware these spices are produced and exported from India . When you go to markets or on line you may compare these spices . In Indian spices you will find different flavours, from and quality in spice brands . That are originating from various regions of India .
[thb_border][thb_image alignment="center" image="9138″ img_size="400×400″][/thb_border]
[thb_gap height="30″]
[thb_gap height="30″]
Let us first go through a list of  Spice Brands which made it our Top 10 spice brands in India.
1. Everest
Everest is the largest spice company & based in Mumbai. With 42 spices under this brand, around 20 million households use Everest that is also available to 4,000 plus outlets covering 1,000 towns in India.
2. MDH
This company is known for a blend of different spices catering to a variety of dishes. Starting operations in 1919, today MDH exports its spices across many countries.
3. Catch
Catch has a unique approach when it comes to the manufacturing of its spices. It uses low temperature grinding technology, preventing the evaporation of delicate oils from the spices & giving you the original flavour.
4. Mother's Recipe
One of the oldest spice companies in India starting in 1901, Mother's Recipe is known for its exotic spices & exports to countries like US, UK, Canada, Far East, Middle East & Australia.
5. Priya
Giving us six flavours of pickle spices, Priya today stands tall in the global market.
6. Cook Me
Cook Me is also one of the oldest spice brands established in 1846. It is famous for making the dishes more flavoured & tasty with exotic spices.
7. Pushp
Having a strong base in all the states of India & since the last 25 years, the company has been in the spice business with an Agmark certification of quality for food products.
8.  Nilon's
One of the rapidly growing spice companies in India, Nilon's is famous for its pickles, tooty-fruity & roasted vermicelli.
9. Ramdev
Since 1965, Ramdev gradually expanded its business from Ahmedabad to all parts of India & today its spices are used by millions all over the world.
10. Maggi Masala
Subsidiary of  by Nestle, it is famous for making instant noodles & for its different spices. They also offer a variety of curry pastes & other flavoured spices that are quite popular in every household.
There are more spice brands universally available around the world
To name a few are
TRS , Eastern , East End , Aaachi Masala and many more
NB:
The list is not any way we are patronising or supporting their quality or pure production process . If you represent any of these spice company and want to collaborate with us . we do conduct quality test before writing more in detail . Best way to Contact our correspondant or
write to us 
[thb_gap height="30″]
[thb_border][thb_image alignment="center" image="8493″ img_size="300×300″][/thb_border]
[thb_gap height="30″]