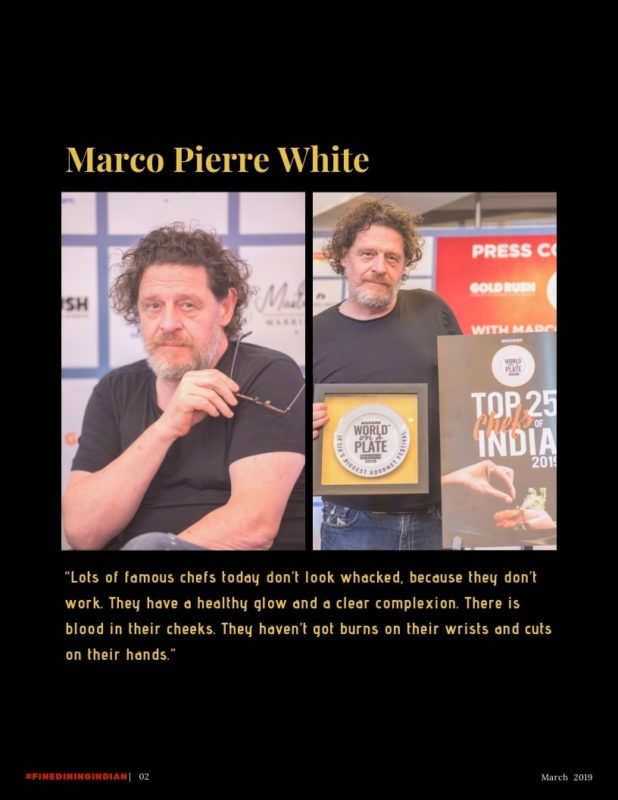 World On a Plate Mumbai with Chef Marco Pierre White
Chef Marco Pierre White and his experience in India.
Success On A Plate 2019
World On A Plate celebrated its Season 4 by bringing together India's top 16 chefs including Britain's legendary Chef Marco Pierre White at The St. Regis. Mumbai

21stJanuary 2019:
Over 10,000 food lovers flocked to season 4 of World On A Plate, India's biggest gourmet festival, featuring the legend of 'Modern Cooking' Marco Pierre White on January 19th  and 20that The St. Regis Mumbai (official hospitality partners) and High Street Phoenix, Lower Parel. An initiative by Gold Rush Entertainment, this epicurean fiesta was a culinary delight in every aspect encompassing – India's top restaurants pop ups and culinary geniuses, master classes by renowned international and national chefs, exclusively curated dinners and lunches by none other than Chef Marco Pierre White, competitions amongst amateur chefs, awards given away by some of the world's most influential culinary artists and much more.

Season 4
has been India's most premier edition so far and over the course of two days, hosted16 celebrity master classes, 25 restaurant pop-ups and desserts offered by Mumbai's best food brands, an impressive cocktail program – 'Art of Cocktail Making' master class and fresh craft brews creating the perfect atmosphere and an everlasting experience for everyone. Chef Marco Pierre White showcased his signature dish- Wild Mushroom Risotto and conducted master classes which were attended by the top food influencers in Mumbai.
7-course dinner
There was an exclusive 7-course dinner that was attended by celebrities & Influencers like Sachin Tendulkar, Sanjeev Kapoor, Neeraj Govil (Area Vice President, South Asia Marriott International Inc.), Anuraag Bhatnagar (Multi PropertyVice President,Mumbai & Goa, Marriott International), Sanjay & Rachna Sethi, Khushnooma Kapadia, Nikita Ramchandani, Kamaal & Nico Sidhu, AD Singh, Elena Fernandes, Kevin & Merlyn Flynn (President , FCA) while the exclusive 7 course brunch was attended by Imran Khan and Avantika, Shruti Seth and Danish Aslam, Simran Kaur Mundi, Maria Goretti, Raaj Sanghvi & Aarti Gupta Surendranath to name a few.
As intimidating he may seem, Marco Pierre White signed aprons for young chefs and took photographs with lines that amassed thousands of fans, as he mentioned "India has given me more than I have given (it). This country has been a very emotional experience for me." Everyone from the food fraternity in attendance pledged to support the message of raising 1, 00,000 meals for underprivileged children in association with HUG Foundation.
The festival also witnessed master classes by renowned chefs like Chef Sarah Todd, Chef Ben Ungermann, Chef Ranveer Brar, Chef Vicky Ratnani, Chef Rakhee Vaswani, Chef Jason Hudanish, Chef Anurita Ghoshal, Chef Rachel Goenka, Chef Vivek Swamy, Chef Ajay Chopra followed by Tete-A-Tete. The interaction with the experts also resulted in discovering some lesser known culinary tips and tricks for the budding chefs.
The CEO of Gold Rush Entertainment, Mr. Kiran Soans opined, "I always believed that World on A Plate is no ordinary food festival but one that captivates all senses and creates a fine line and becomes art, making it the biggest and the most credible International Food Festival in the country. This time we brought the legendary Chef Marco Pierre White who hosted two masterclasses which received phenomenal response. This platform also gave Indian chefs an opportunity to showcase food as their genuine expression of passion and love."
Commending on his experience,
Chef Marco says- "I wish had more time to spend in India – it's beauty and culinary history is mesmerising. I have met some of the warmest and kindest people in my life and I have only been here for a few days! I was very delighted to meet top 16 chefs and taste their creations, each of which were unique in their own way. I truly believe that events like World On A Plate are required to help create a change in our industry."
Himanshu Taneja, Director of Culinary, India, Marriott International Inc. says -"Culinary experiences have and will continue to be an integral part of Marriott International. With over 5000 chefs creating specially crafted dining experiences across over 200 restaurants in India, Marriott's F&B offerings are spearheaded by some of the finest chefs. To mark the beginning of 2019, we were delighted to host the legendary culinary Master, Chef Marco Pierre White as we launched Masters of Marriott at The St Regis Mumbai, famed for its exemplary, immersive and iconic services. By collaborating with globally renowned chefs, we endeavour to raise the bar with each innovation and strive to create unparalleled offerings that will surely delight our patrons."

The event also witnessed two unique tete-e-tetes between Chef Marco, Ranveer Brar and other Indian culinary stalwarts as they debated on the nuances of cooking across cultures along with an exclusive opportunity to meet and greet their godfathers, who also signed the memorabilia for attendees.
This huge culinary festival
also revealed 7 unique award categories, whose winners include:
| | |
| --- | --- |
| Category | Winner |
| World On A Plate Restaurant of The Year | Arth Restaurant & Lounge |
| Popular Choice Restaurant of the Year | Goila Butter Chicken |
| Popular Choice Dessert Brand of The Year | Bono Boutique Ice-cream |
| Britannia Amateur Pastry Chef of the Year | Karishma Parwani from Your Sugar Story |
| Food Photographer of The Year | Neerja Nehete (@neerja _sns) and Priyam Thakkar (@priyammm03) |
| Corporate Master chef of the Year | Vinay Jain from Awfis |

For any further information contact :
Press Office:The Other Circle PR
Submit Your Review

[yasr_visitor_multiset setid=2]