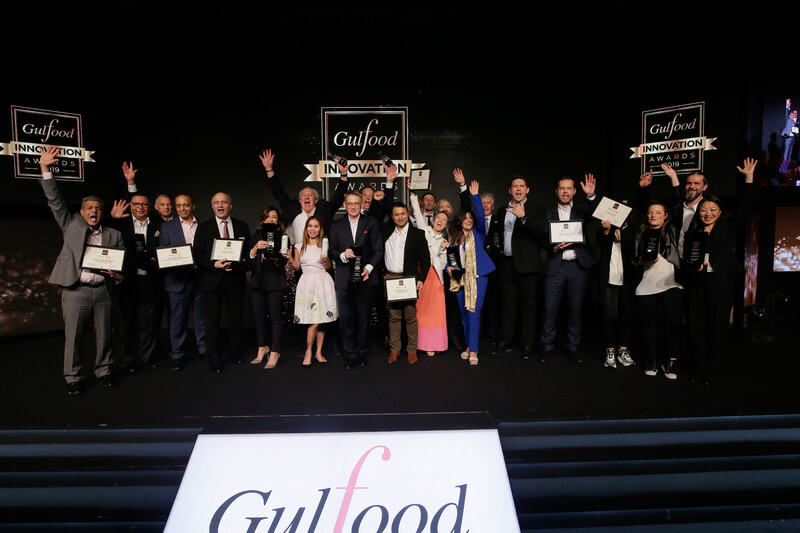 Gulf Food
Gulf Food Dubai 2019 
---
Gulfood at a glance

Gulfood visitors discovered a show packed to the DWTC rafters taking up more than 1,000,000 square feet with 5,000 exhibitors and 120 country pavilions vying for business with the latest F&B produce and showcases across eight primary market sectors: Beverages; Dairy; Fats & Oils; Pulses, Grains & Cereals; Health, Wellness & Free-from; Meat & Poultry; Power Brands; and World Food.
Gulfood 2019 is a trade event open strictly to business and trade visitors. The show was open 11am-7pm from February 17 – 20 and 11am-5pm on February 21.
Global food sector power brand Gulfood – the world's largest annual food and beverage trade exhibition – is raising the international industry forum bar for its 24th edition
Having already won major international acclaim for the breadth and depth of its offering as a strategic hub for setting and evolving global food trade trends, Gulfood organisers DWTC have instigated another round of show innovation to ensure the finished foods mega event stays well ahead of the industry curve.
A World of Tastes – championed by world-renowned chefs

Being held under a new theme – 'The World of Good, The World of Food' –
Gulf Food Dubai 2019  showcase the global diversity of 'food' via its international exhibitor base and a major pool of Michelin-starred chefs participating in the all-new Tastes of the World competition. Many of the largest country pavilions are already committed to the contest, including France, Germany, Spain, Japan and Brazil.
On the 'good' side, shifting consumer preferences for health food options and other industry-shaping topics featured heavily in the Gulfood Innovation Summit held from February 18-20.
The Summit set the scene for three days of high-calibre industry discussion with the airing of a global social and economic outlook for the F&B industry on its first day.
Ranging from sector disruptors such as Beyond Meat, to major global entities including The United Nations World Food Programme, the Summit will feature in-depth discussions and exclusive question-and-answer sessions with globally acclaimed chefs, influencers and industry leaders on the challenges of introducing breakthrough concepts to local markets.
"Gulf Food Dubai 2019continues to underline its trend-setting status as global industry pioneer and the 2019 show raises the bar even higher. The diversity of the content on offer and new immersive experiences, in addition to increased potential for new market opportunities, will enable visitors to get the most out of their Gulfood stay while ensuring exhibitors continue to get access to the audience they most wish to meet – buyers with specific interests in their sectors," added LohMirmand.

New experiential zones raise the bar 
Also new for Gulfood 2019 is a range of immersive features designed to enhance visitor experience and facilitate greater business opportunities, including CxO Club, Start-Up Programme, the Meat-Me competition, Tea House, and a dedicated Health Lab.
"The new features are designed to reflect the trends the industry is currently undergoing and will bring new dynamics to a show that is already well known for its vibrancy in product and service innovation," said Trixie LohMirmand, Senior Vice President, Exhibitions & Events, DWTC.
Chef Roberto Segura, founder of Waka Restaurant at the Oberoi, in Dubai's Business Bay, and Craft Café in Dubai Design District, will captain the Americas in the live cooking contest. The Peruvian chef is eager to demonstrate the best of South American cuisine and take the title in the process.
"This really is a rare opportunity for us to show the wonders of the food from our region. Visitors to Gulfood will get up close to the live action, see the fun we have in a live kitchen environment and get to know how we utilise ingredients and flavours to create the food that is loved by so many people around the world," said Chef Roberto. "It's going to be a special occasion for visitors and for the chefs."
Chef Francesco Guaraccino, Executive Chef, Italian Group, will captain Team Europe in the contest, and will be encouraging his team to show all their creative flair to come up with a winning combination.
"I was on board with this idea as soon as I heard about it. As chefs, we always want to showcase the food we prepare, and Tastes of the World gives us a truly unique platform to engage with a tailored audience comprising leading industry professionals from around the world," said Chef Francesco.
Elsewhere in Tastes of the World,leading Dubai restauranteurs Nick Alvis and Scott Price, aka Nick & Scott, will host live masterclasses on signature dishes that feature on the menu at their Madinat Jumeirah restaurant Folly, a favourite on the Dubai dining scene.
TASTES OF THE WORLD IS AMONGST AN ARRAY OF FEATURES ADDED TO GULFOOD 2019 TO ENHANCE VISITOR EXPERIENCE AND UNDERPIN THE SHOW'S REPUTATION AS A TREND-SETTING PIONEER FOR THE GLOBAL FOOD INDUSTRY.
"We have been in Dubai for a decade and every year we try to get to Gulfood as the show is a good parameter to see where the UAE is in terms of new ideas, food, technique and style. This year we have been invited to the Tastes of the World." said Scott.
"At the Tastes of the World, we will represent British cooking, showcasing one of our signature dishes at Folly" said Nick.
Finediningindian Magazine previous issues
---
[thb_image image="5008″ img_link="url:http%3A%2F%2Ffinediningindian.com%2F2017%2F07%2F05%2Ffine-dining-indian-magazine-july%2F|title:Finediningindian%20Magazine%20July%202017%20Issue|target:%20_blank|"]
[thb_image image="4356″ img_link="url:http%3A%2F%2Ffinediningindian.com%2F2017%2F04%2F15%2Ffinediningindian-food-magazine-march-issue-2017%2F|title:Finediningindian%20Magazine%20April%202017%20Issue|target:%20_blank|"]
[thb_image image="7707″ img_link="url:https%3A%2F%2Ffinediningindian.com%2F2019%2F03%2F07%2Ffine-dining-indian-food-magazine-march-2019%2F|title:Fine%20dining%20Indian%20Food%20Magazine%20March%202019%20Issue|target:%20_blank|"]
Submit Your Review
[yasr_visitor_multiset setid=0]