Bubble Waffle Dosa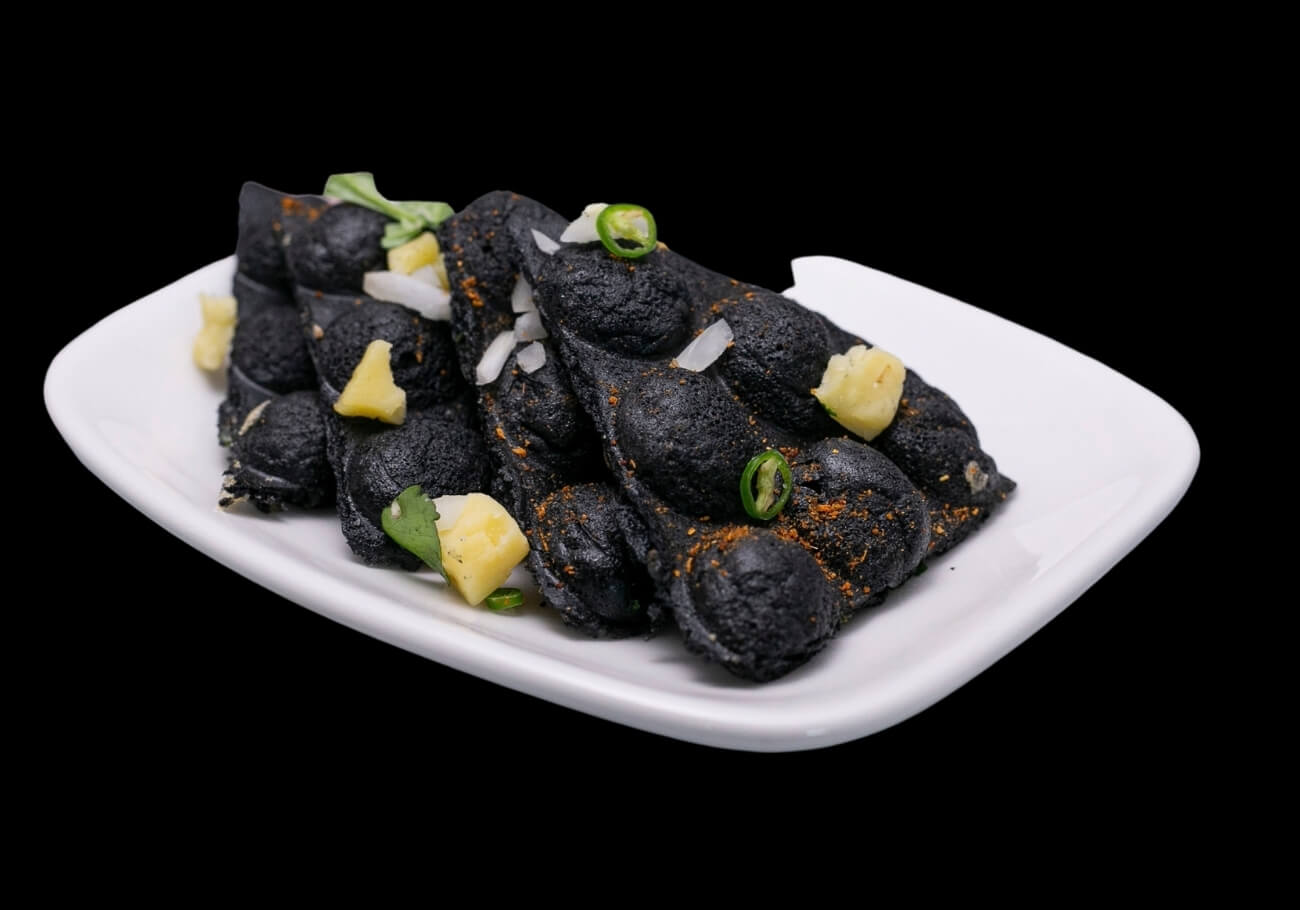 15 minutes
super easy
serves 1
Chilli Cheese charcoal Dosa is a rice pancake from Sothern part of India. This is made out of fermented batter made out of rice and urid dal. Here in this recipe we are mixing an edible charcoal in to dosa batter to get a black colour dosa. Made in two ways by using bubble waffle maker and traditional crepe style dosa with some chilli and cheese.
Portion Size – One
Adjust Servings
1

Tbspn

Cheese (mature cheddar)

buy fresh

1

Tspn

Green chilli chopped

1

Tbspn

Onion chopped

1

Tspn

Coriander Leaf Chopped

3

laddle

Dosa batter (fermented)

For charcoal dosa batter

1

Tspn

Charcoal powder

For charcoal dosa batter
1.
Stage 1
Put all the ingredients in a bowl mentioned in the filling. Mix altogether and keep it aside.
Now in a bowl pour the dosa batter and add charcoal powder in to it. Mix until it gets the exact black color.
2.
Stage 2 : For making Dosa
Apply clarified butter in bubble waffle maker. In a bubble waffle maker pour the charcoal dosa batter evenly.
Fill the chilli cheese mixture in each bubble pockets. Now cover the chilli cheese mixture by drizzling the dosa batter on top.
3.
Stage 3
Cover the bubble waffle maker and cook for 3 minutes. When it is cooked open and slowly pick it up from waffle maker and place it on a chopping board.
To plate it slightly chop the sides and cut it in to half without cutting through the bubble. Place it in a bowl and sprinkle some gun powder on top before serving.
4.
Stage 4
If not having the bubble waffle making just use the dosa tawa. Apply some clarified butter on tawa, pour charcoal dosa batter and spread it in to circle shape. Now put the chilli cheese mixture and pour some ghee or oil on top.
Ensure it is cooked evenly and easy to remove from all the sides. Slowly try to roll it and leave it on the pan to make it little more crispy. Plate it as shown in the video.
*Nutrition info is a rough estimate based on the ingredients. Note that values may vary from case to case.
*As with all recipes, there is a number of ways you can get things done. If you believe that some of the instructions can be improved, or have a good alternative solution, feel free to leave a comment.