Steamed Handvo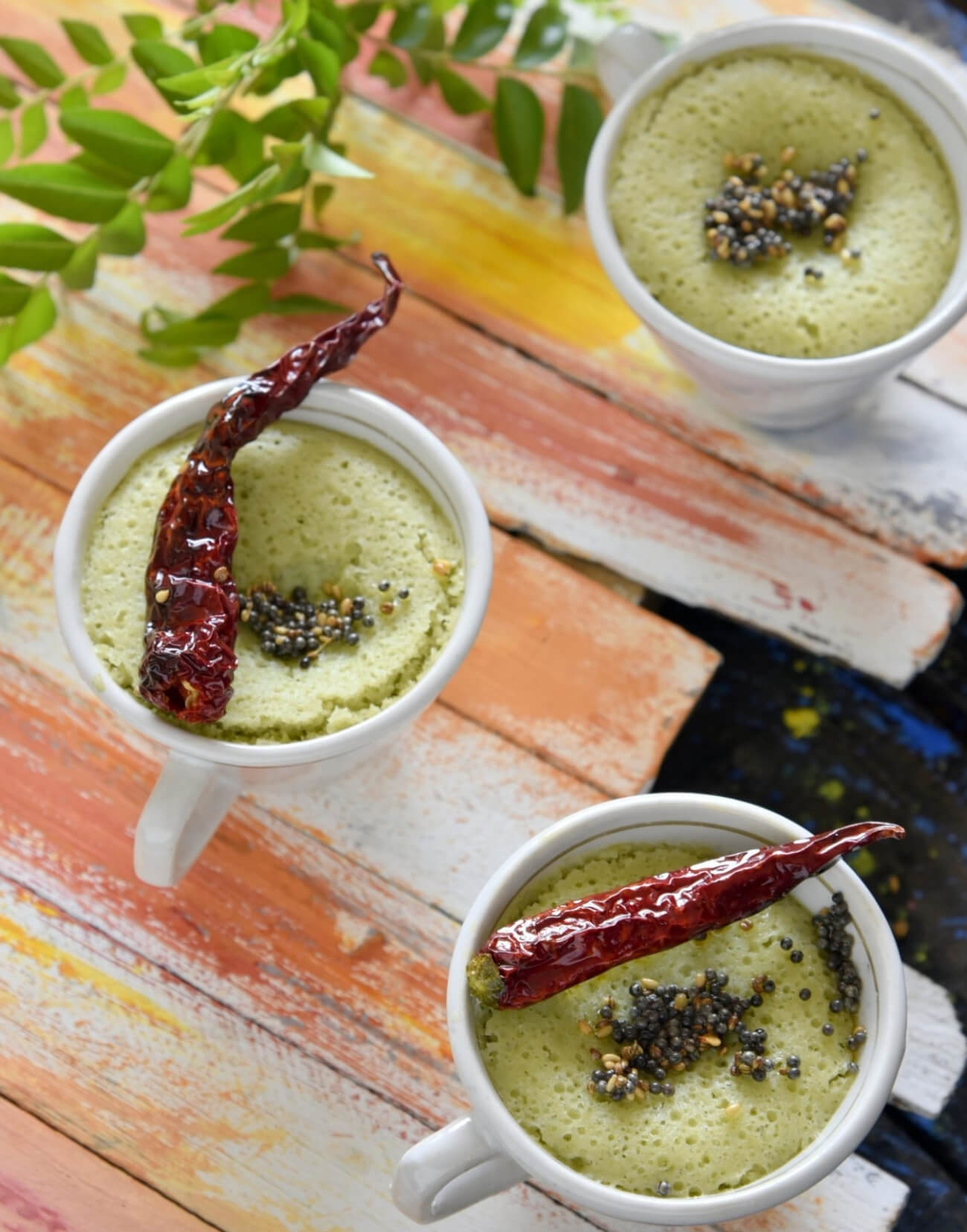 30 minutes
medium
serves 6
Nam aliquam sem et tortor consequat. Odio tempor orci dapibus ultrices in iaculis. Vitae proin sagittis nisl rhoncus mattis rhoncus. Sed risus ultricies tristique nulla aliquet. Excepteur sint occaecat cupidatat non proident, sunt in culpa qui officia deserunt mollit anim id est laborumd ut perspiciatis unde omnis iste voluptatem accusantium doloremque laudantium,  aperiam, eaque.
Adjust Servings
1

cup

whole moong, soaked in hot water for 2 hours

buy fresh

1

cup

Eggs batches flax eggs* (2 flax eggs = 2 Tbsp flaxseed meal / 14 g + 5 Tbsp / 75 ml water)

2

tbsp

Semolina

1

tbsp

Gram flour

2

tbsp

Coriander; finely chopped

1

tsp

Green chilly paste

1

tsp

Garlic paste

1

tsp

Ginger paste

Salt as required

1 ½

tsp

Fruit salt

1

tsp

Peanut oil for greasing
For Dressing
1

tbsp

Peanut oil

2

tsp

Mustard seeds

1/2

tsp

Carom seeds

2

whole Kashmiri red chillies; broken into pieces

2

tsp

Sesame seeds

1/2

tsp

Asafoetida
1.
Stage 1
Lightly grease tea cups with 1 tsp peanut oil and keep aside till further use. Grind soaked moong into a course paste using ½ cup fresh water and transfer into a mixing bowl.
To this, add semolina, crushed peas, gram flour, chopped coriander, green chilly paste, garlic paste, ginger paste, salt and ¼ cup of water. Mix well. Rest the mixture for 10 minutes.
2.
Stage 2
To the mixture, add fruit salt and 2 tsp of water. Mix immediately and fill the greased cups till ¾th full. Place in a steamed on high flame for 15 minutes.
While this is steaming, heat oil in a pan. Add mustard seeds and allow these to crackle. Add in carom seeds, Kashmiri chilly, sesame seeds, asafoetida and turn the flame off.
3.
Stage 3
Spoon a little on each of the steamed handvo.
Serve hot.
*Nutrition info is a rough estimate based on the ingredients. Note that values may vary from case to case.
*As with all recipes, there is a number of ways you can get things done. If you believe that some of the instructions can be improved, or have a good alternative solution, feel free to leave a comment.