Paneer Tikka At Home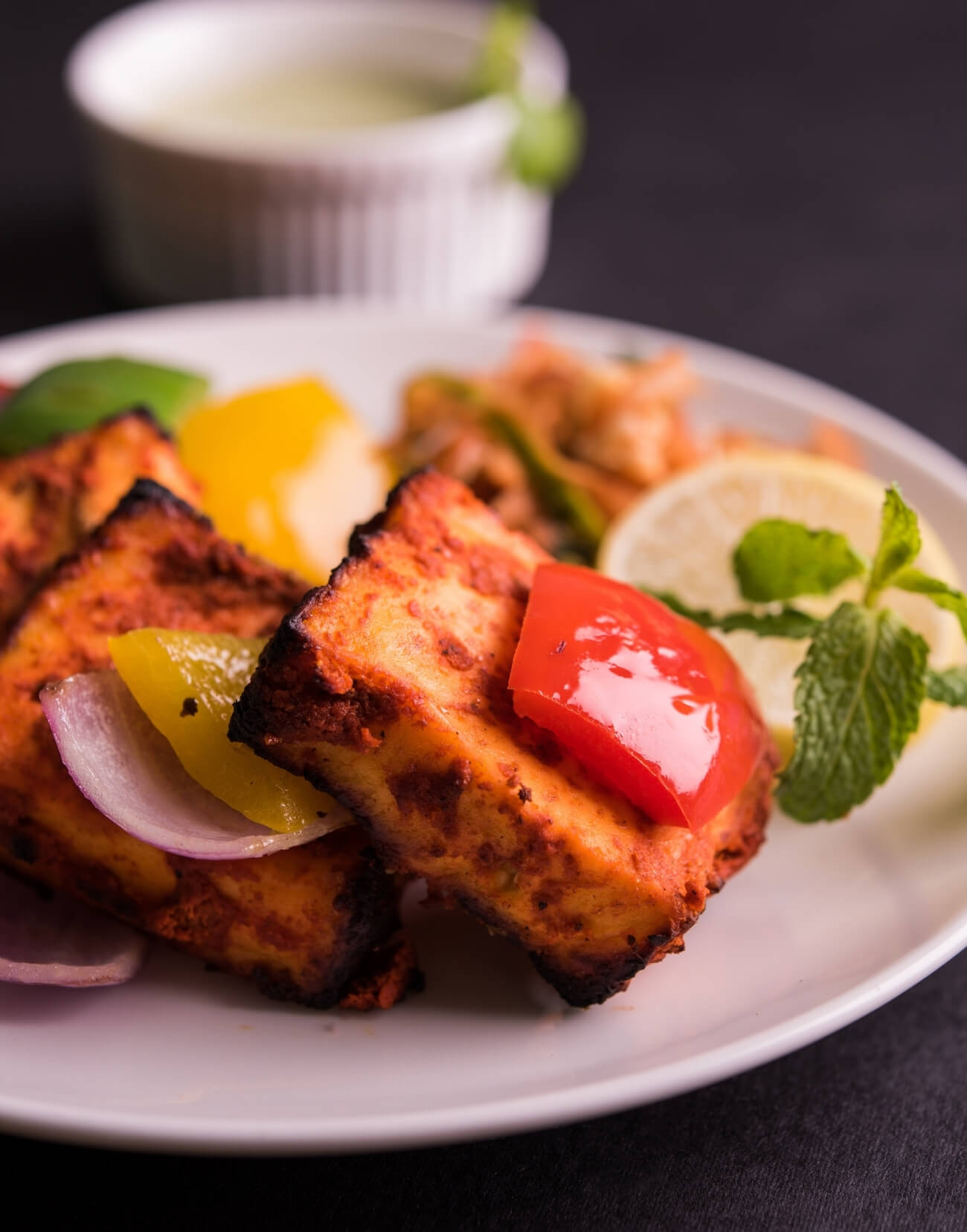 60 minutes
medium
serves 1
Panner tikaa can only be eaten in a restaurant, is it?
Paneer tikka at home. when we talking about the most famous Indian starter and yes it's getting famous because of its flavors and texture. But panner tikaa is Indian or not?
Portuguese came with the term panner and Mughals came with their cooking techniques and combination of both results in this amazing delicacy.
Adjust Servings
350

g

Paneer

buy fresh

2

Red Bell peppers

1

Medium onion

1

cup

Thick Yogurt

½

tsp

Turmeric powder

½

tsp

Coriander Powder

½

tsp

Chili Powder

1

tsp

Cumin Powder

1

tsp

Carom Seeds

2

tbsp

Oil
1.
Stage 1
Cut the paneer & vegetables into bite-size chunks.
In a big bowl, whisk ½ cup yogurt with oil and all the spices. Drop the cut panner, veggies, and pineapple into the bowl. Give it a mix and allow it to marinate for at least 30min
2.
Stage 2
Arrange the Paneer cubes in skewers One-piece bell pepper, one paneer cube, and one-piece onion.
Take a pan griller or normal pan, add oil and put marinated skewers
3.
Stage 3
Don't turn skewers regularly otherwise you might miss that grill marks
After 2-3 min Turn the skewers and keep it for 2-3 min and done Serve warm with green chutney on the side.
4.
How to prepare paneer tikka without skewers
If you don't have skewers, then you can use toothpicks. For that, try and arrange about 2-3 pieces on it (eg. One bell pepper, one paneer cube, and one tomato). Then you can roast it on Tava.
Alternatively, you can arrange all the marinated stuff on greased Tava/non-stick pan and keep flipping them till done.
*Nutrition info is a rough estimate based on the ingredients. Note that values may vary from case to case.
*As with all recipes, there is a number of ways you can get things done. If you believe that some of the instructions can be improved, or have a good alternative solution, feel free to leave a comment.