Chicken Tikka Masala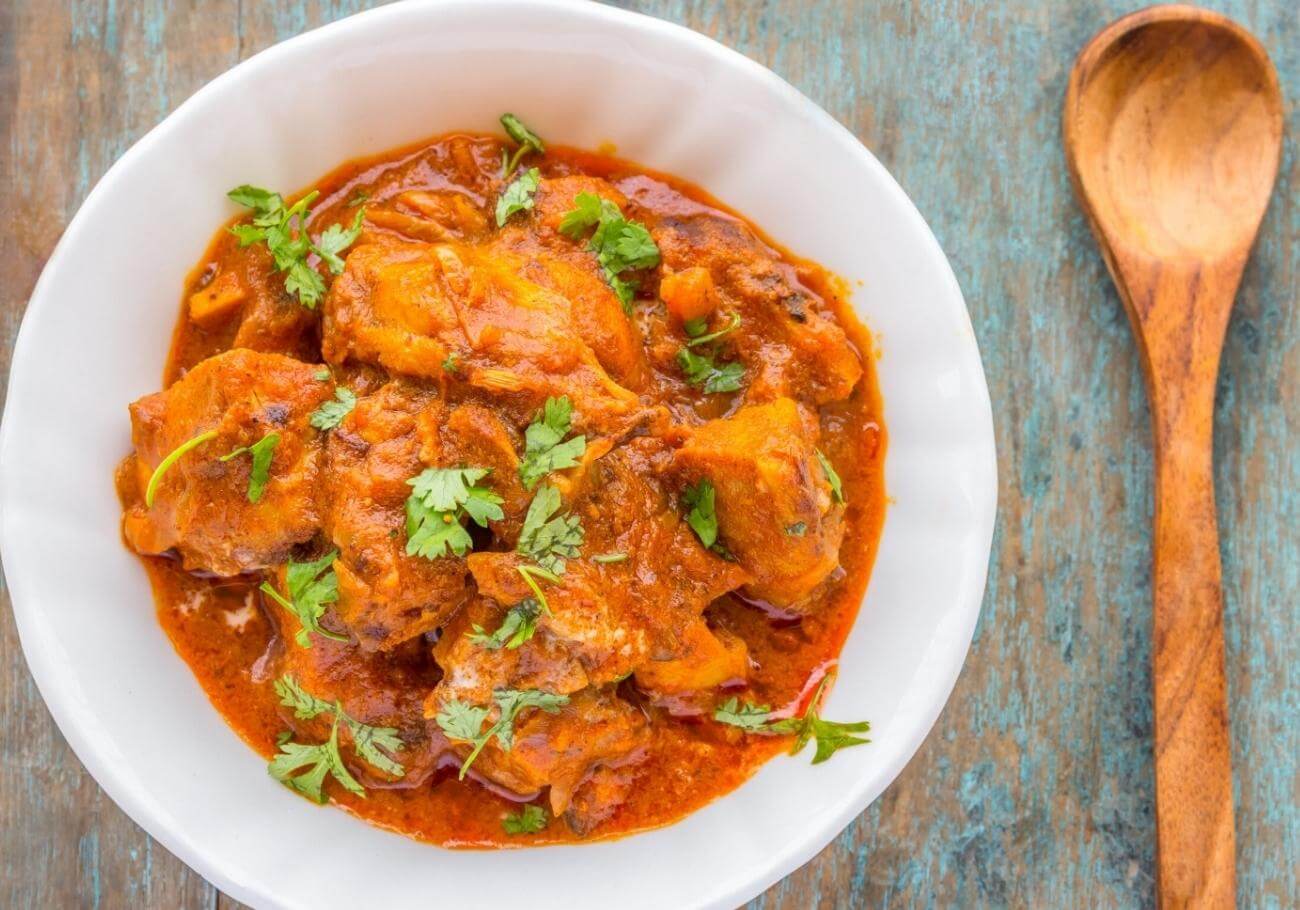 In this Recipe for Chicken Tikka Masala you learn how to create the famous chicken dish . This Is a Preparation Of Boneless Chicken . The  Pieces are Marinated With Yogurt, Mustard Oil, Chilly Powder, Ginger, Garlic  And It Is Cook On Clay Oven (Tandoor) .  Finished Whole Product With The Help Of Tomato Cream Base  Gravy. The dish Was Invented In 1970 By a Bangladeshi Chef In Glasgow Scotland. Chicken Tikka Masala Is Widely Accepted As Example Of Fusion Cuisine
Adjust Servings
600

Gm

Boneless Chicken

1

Tbsp

Lemon Juice

5

No.

Garlic Cloves

4

Cm

Piece Of Fresh Ginger

2

Tsp.

Cumin Seed

2

Tsp.

Coriander Powder

2

Tsp.

Garam Masala

1

Tsp.

Kashmiri Red Chili Powder

60

Gm

Yogurt

2

Tbsp.

Oil

Salt
For Tikka Masala sauce
3

Tbsp.

Oil

1½

Large Chopped Onion

1

Tsp.

Turmeric

3

Tsp.

Coriander Powder

1

Tsp.

Kashmiri Red Chili Powder

3

Medium Chop Tomato

50

Gm

Tomato Puree

1/2

Tbsp.

Lemon Juice

1

Tsp.

Garam Masala

50

Gm.

Fresh Cream

Chopped Coriander

Salt
1.
Stage 1
Take A Chicken Pieces into the Bowl add Lemon Juice And Salt Rub It Nicely And Marinate For 10 Min (Frist Marination Always Act As A Tenderizer).
Take A Bowl Add Chilli Powder, Ginger-Garlic Paste, Mustard Oil, Garam Masala, Yogurt Mix It Well. (Second Marination Help To Increase The Flavors Of And Richness Of Dish)
2.
Stage 2
Take Out Chicken From Frist Marination Squeeze It Properly. Add squeeze chicken pieces into second marination bowl and mix it well.
And Put On The Second Marination And Marinate At Least 20min.
3.
Stage 3
Apply oil on pan griller and add marinated chicken pieces (don't turn immediately otherwise we miss that grill marks which everyone appetite) After 3-4 min turn the pieces and allow it cook for another 3-4 min
Heat Oil on Large Pan Over Medium Heat. Add Mustard Seed , Cumin Seeds, Whole Red Chilly And Chopped Onion Sauté Until Lightly Browned And Ginger-Garlic Paste And Sauté It Nicely Add Turmeric Powder, Coriander Power, Chilli Powder Sauté For Min And Tomato Puree Cook It Well After Add Chopped Tomato Saute Untill They Are Soft And Mushy And Simmer For 3-4 Min Add Water If Required
4.
Stage 4
Pour in Fresh Cream And Lemon Juice Add Water To Make A Proper Consistency.
Add Garam Masala And Freshly Chop Coriander And Add Chicken Tikka Into Gravy. Garnish With Cream And Coriander