Mutton Biryani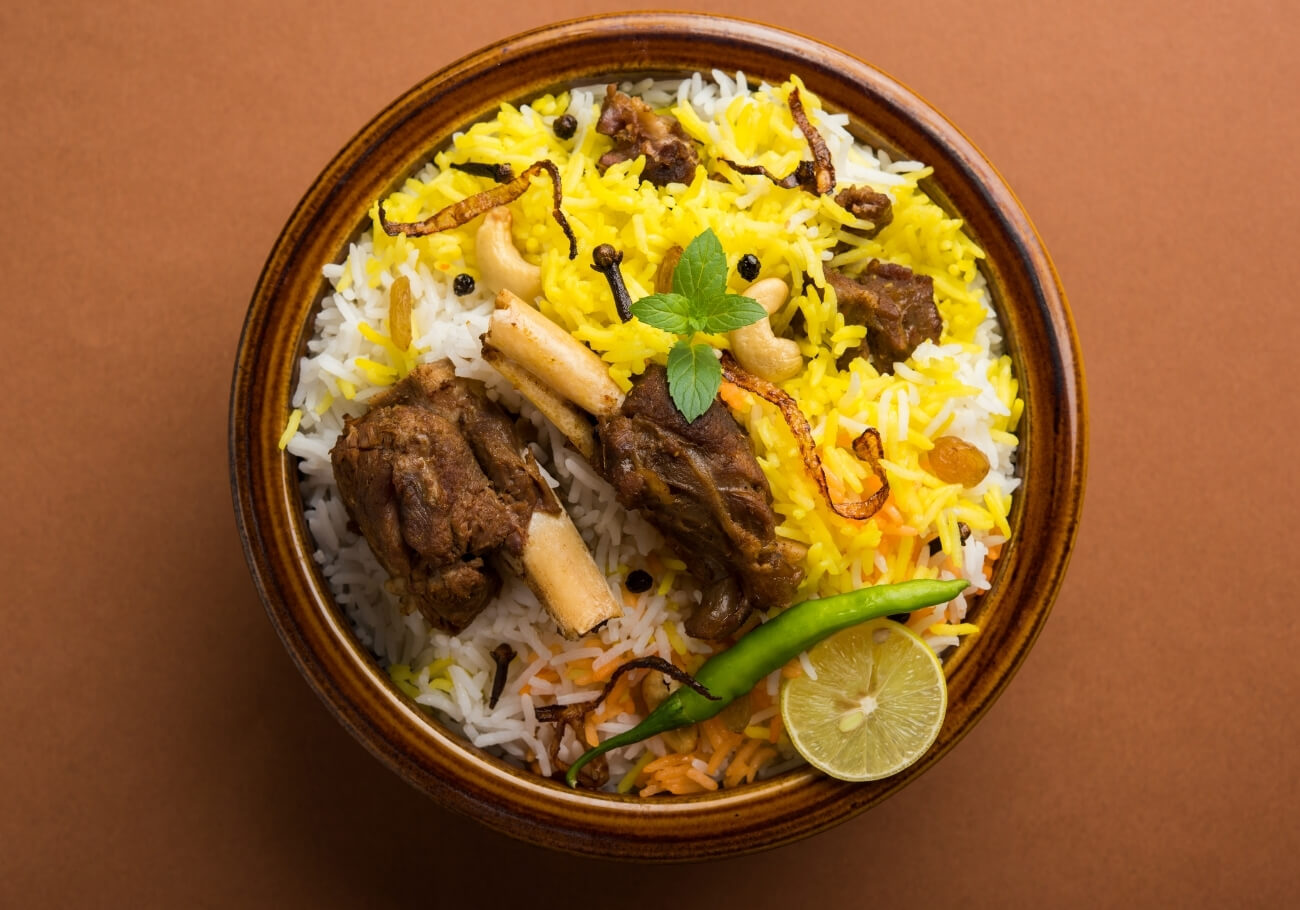 Portion Size – One
Plateware – One Portion Handi
Adjust Servings
210

Gms

Mutton Shanks

buy fresh

120

Gms

Mutton Leg Boneless Cube

3

Gms

Bay Leaf

2

Gms

Cinnamon

2

Gms

Cloves

5

Gms

Green Cardamom

25

Gms

Ginger

60

Gms

Ghee

10

Gms

Yellow Chilly Powder

10

Gms

Mace Cardamom Powder

75

Gms

Yogurt

5

Gms

Green Chilly

10

Ml

Kewda Water

0.05

Gms

Saffron Water

20

Gms

Brown Onion Paste

20

Gms

Brown Onion

300

Gms

Paya Stock

6

Gms

Mint Leaves Fresh

20

Gms

Salt

350

Gms

AIP – Biryani Rice

300

Gms

AIP – Biryani Jhol
For Dressing
30

Gms

Mint Chutney

30

Gms

Tamarind Chutney

2

Gms

Coriander Spring
1.
Stage 1
In a clean vessel, heat ghee and crackle all the spices. Add ginger garlic paste and sauté well. Add the mutton shanks and the boneless meat.
Cook on a high heat till the mutton leaves water. Add the yoghurt and cook. Add salt and the yellow chilly powder, cook till it leaves oil.
2.
Stage 2
Add brown onion paste and cook for another 5 minutes. Add the brown onion. Add water and simmer till the mouton is done 60%.
Add the paya stock and cook till the lamb is done. Add half of the mace and cardamom powder.
3.
Stage 3
Separate the mutton and let the mutton gravy cook till the right consistency is achieved. Now remove the meat on the bone.
Strain the gravy and put all the boneless meat in it. Just give a boil and transfer to a clean bowl. Store properly after cooling, in a chiller.
4.
Stage 4 - Assembly
Put the mutton for the Biryani in a pan. Put mint, green chilly slit, brown onion, salt, and mace and cardamom powder, as per the order. Put this gravy with meat in the Biryani pot.
Add the rice for the mutton Biryani on top. Sprinkle the Biryani jhol for the mutton Biryani, on the rice evenly.
5.
Stage 5 - Final Part
Sprinkle the kewda and the saffron water. Garnish with brown onion, fresh mint leaves and slit green chilly. Cook on Dum, on a slow heat.
*Nutrition info is a rough estimate based on the ingredients. Note that values may vary from case to case.
*As with all recipes, there is a number of ways you can get things done. If you believe that some of the instructions can be improved, or have a good alternative solution, feel free to leave a comment.