Indian Grilled Prawns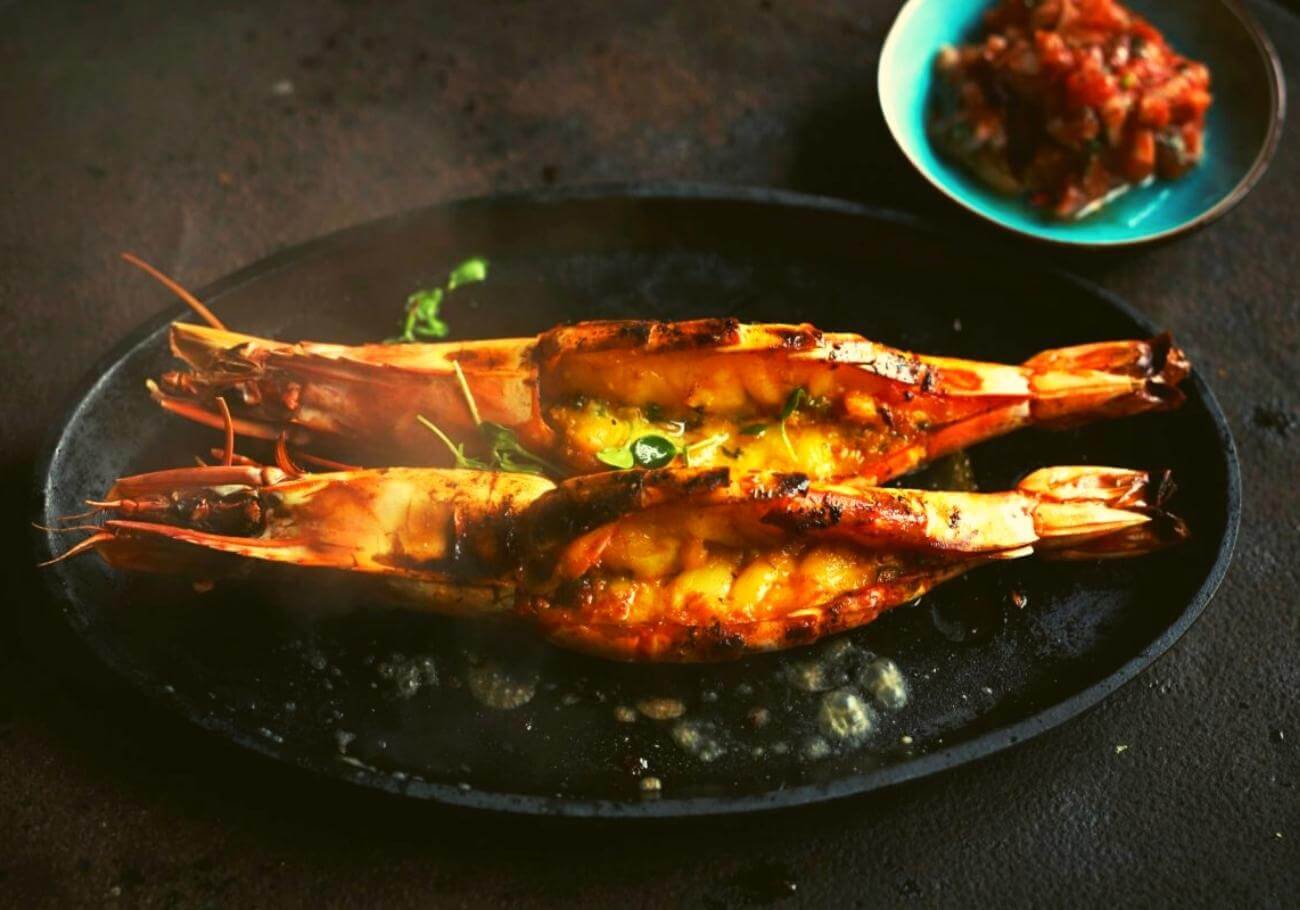 Royal Bengal style wild Madagascar prawns
Chef Abdul Yaseen of Ay Hospitality has provided This Grilled Prawn Recipe Bengal Style. Made with Madagascar prawns .
Adjust Servings
2

x

Giant Madagascar prawns or similar prawns

1

Tbsp.

Vegetable Oil

1st marinade

1

Tsp.

Salt

½

Tsp.

Turmeric

1

Tsp.

Chopped Ginger

1

Tsp.

Chopped Garlic

2

Green Chilies Finely Chopped

1

Tsp.

Fennel Seed Toasted and Crushed

100

Ml

Coconut Cream

2nd marinade

1 ½

Tsp.

Bengali Mustard Oaste (kasundi) or Grain Mustard

½

Tsp

Salt

½

Tsp

Sugar
For Finishing
Grilled Prawn Recipe Bengal Style

50

g

Fresh Coriander, Finely Chopped

Juice from quarter of a lemon
1.
Stage 1
Wash the prawns and trim them free from the tentacles
Deveined and slit in the middle, head and shell on, washed in running water and pat dried
2.
Stage 2
Prepare the first marinade in a bowl by mixing all the ingredient in the section, fold the the prawns with the first marinade and set aside.
Heat the grill, sear the prawns by placing the flesh flat on the grill. After 3 minutes turn it on other and repeat the cooking. Remove and place it on a tray. Preheat the oven to 175° C.
3.
Stage 3
In a mixing bowl mix the second marinade and pour over o the prawns as required. Now place the tray in the preheated oven where the prawns get cooked for another 5 minutes.
Remove the prawns from the oven and serve hot with a sprinkle of coriander and lemon juice.